Shandong Loyal Industrial Co.,Ltd.

Industrial Microwave Oven Food Extruder Machine Biscuit Making Machine

English
Home>Products>Soya Nuggets Extruder>Soya Nuggets Making Machine

Soya Nuggets Making Machine
Soya nuggets making machine is made through a new technical soya nuggets extruder process, which is made of stainless steel, it is with reasonable design and with high automation; The screws is made of alloy steel, with building block system structure and self-cleaning function.The soya nuggets manufacturing process raw materils is Low temperature soybean flakes, soybean powder, corn flour and other grains etc. After the soya protein food is extruded from the dies of extruders, making to granules, flakes, chunks, nuggets, goulash, steakettes and then other shape, then delete the moisture from dryer to to produce all kinds of textured protein food, which is nutritional and easily absorbed by human body. Such soy protein food looks like real muscle meat and mastication.

Loyal

TVP 52 TVP 70 TVP 75 TVP 90

Shandong China

CE,ISO9001,SGS,BV

1 set/soya nuggets fully automatic plant

Contact Us

Wooden case or wooden pellets depended on clients' requirement

25 working days

L/C,T/T,D/P

25 days /soya nuggets manufacturing plant
Soya Nuggets Making Machine Details
Condition
New
Place of Origin
Shandong, China
Type
soybean protein machine, soya nuggets plant
Voltage
380V,50Hz/220V,50Hz
Power(W)
70kw, 128kw, 170kw
Weight
1-3 tons
Dimension(L*W*H)
max 20000x3500x4300mm
Certification
CE BV ISO 9001
Warranty
1 year
Products
soybean protein,soya nuggets,vegetable meat
Capacity
120-150kg/h,200-300kg/h,500-800kg/h
Raw materials
soybean meal,peanut meal ect
Flow chart
mixing ---extrusion ----air conveying ----baking
baking fuel
electric,gas,diesel,LPG
Machines Materials
stainless steel
Automation
Fully Automatic
Inverter Brand
DELTA
Relay
OMRON
Trial Demonstration
Welcome You To Visit Us At Any Time For Machinery Demonstration
After-sales Service Provided
Engineers available to service machinery overseas
Soya Nuggets Making Machine Description
Soya nuggets making machine is made through a new technical extruder process, which is made of stainless steel, it is with reasonable design and with high automation; The screws is made of alloy steel, with building block system structure and self-cleaning function.
The soya nuggets manufacturing process raw materils is Low temperature soybean flakes, soybean powder, corn flour and other grains etc. After the soya protein food is extruded from the dies of extruders, making to granules, flakes, chunks, nuggets, goulash, steakettes and then other shape, then delete the moisture from dryer to to produce all kinds of textured protein food, which is nutritional and easily absorbed by human body. Such soy protein food looks like real muscle meat and mastication.
soya nuggets manufacturing plant is widely applied to many industries, such as can food, seasoning food, ham,cooking,etc. which can be replacement of variety of vegetarian and vegan dishes or as a meat extender.
SOYA NUGGETS FULLY AUTOMATIC PLANT

processing flow chart?
Milling- Mixinging- Extrusion-Pre drying-Drying-Cooling-Packing

Soya Nuggets Fully Automatic Plant Processing Flow Chart
textured soy protein extruder machine DESIGN

Textured Soy Protein Extruder Machine design
Technical Parameters For

SOYA NUGGETS MANUFACTURING PROCESS

machine
| | | | | |
| --- | --- | --- | --- | --- |
| Model | Installed Power | Power Consumption | Throughput | Dimension |
| TVP 52 | 68kw | 51kw | 50~150kg/h | 23000×3100×2800mm |
| TVP 70 | 194kw | 145kw | 150~400kg/h | 27000×3200×3100mm |
| TVP 75 | 131kw | 98kw | 200~350kg/h | 25000×3100×3100mm |
| TVP 90 | 240kw | 180kw | 400~800kg/h | 24000×4400×2800mm |

Soya Nuggets Manufacturing Process Machine
Tissue Protein VS. Meat Products
| | |
| --- | --- |
| High efficiency | The conversion rate of plant tissue protein can reach more than 75%. Bring protein raw materials to the table more directly, these can be made by plant tissue protein |
| Safe | Zero cholesterol, zero antibiotics |
| Nutrition | According to the physical needs of different people, tissue protein can be tailored to prevent uneven nutrition |
SOYA NUGGETS MAKING MACHINE

RECIPT
Textured Vegetable Proteins
Target objectives: texture, mouthfeel and appearance
Textured vegetable proteins: Soy, wheat gluten base, pea, lupin, lentil and legume
Recipe add-ins: Salt, coloring, starches, oils and flavors
Contain between 50% and 80% moisture after extrusion, corresponding to their whole meat counterparts
What can do from SOYA NUGGETS MANUFACTURING PLANT ?
| | | | |
| --- | --- | --- | --- |
| Tissue Protein | Brush Protein | Hign-Water Tissue Protein | Dryer Protein |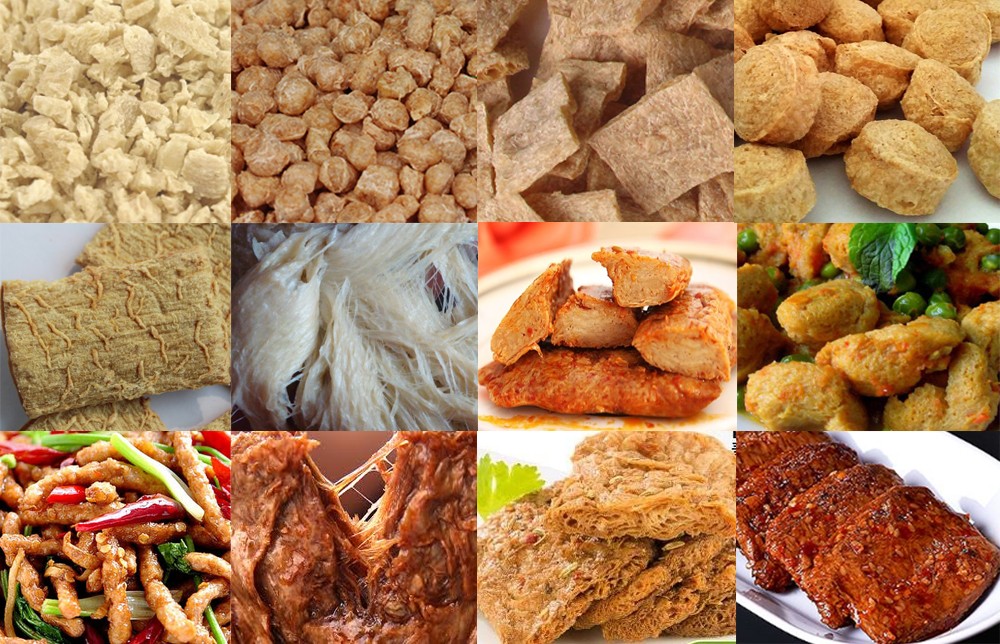 Soya Nuggets Manufacturing Process application
SOYA NUGGETS MANUFACTURING PROCESS APPLICATION
Dry textured protein
Pellets, crumbs, minced,Flakes, Chunks, Chips, Schnitzel, Nuggets
Wet hign moisture protein
Soya, pea, pea-sunflower made
Textured Vegetable Protein

manufacturing project report
The Advantages of Textured Vegetable Protein extruder

Diversity

-The same process can not only meet the application of a variety of artificial meat products, but also meet the application of many kinds of extruded products;

Convenience

-The process is relatively simple, the core is squeezing and drying, but the core equipment is fully automatic touch screen control;

-The equipment has a high degree of automation, simple and convenient operation, and quick and easy removal and washing;

Stability

-The equipment is stable and reliable, and the accessories are durable.The equipment purchased by many users in the industry from around 2000 is still in continuous use;

-The product quality is stable and reliable, meeting the most stringent food hygiene standards and quality requirements of domestic and international customers;

-Low maintenance of finished products and low failure rate, to meet customer continuous production requirements for large output for a long time;

Economy

-Low energy consumption of the whole line and low unit production cost;

-Low equipment maintenance cost, which can effectively reduce the use cost;
Loyal Industrial before sales service for soya nuggets making machine:
a.) We provide you the suitable soya nuggets manufacturing project solution,which is useful and convenient
b.) We produced the soya nuggets extruder you need in our factory,you can buy it without any hesitate.
c.) We provide you the factory design soya nuggets manufacturing plant and processing line layout and also design for water and electric and gas etc.
d.) With much experienced technical team,we can meet customer personalized requirement,produce the customized soya nuggets plant cost for you
Soya nuggets making machines are manufactured by us using superior high grade raw materials and latest technology, Our expert professionals aid us in providing highly efficient machines to our clients.
All of these soya nuggets manufacturing project go through rigorous testing to ensure quality and fault free delivery of products. Our soya nuggets extruders are highly appreciated by our customers for their robustness and long life.
Cooperated Customer For Laboratory Machine Of The Soya Meat Processing Line In 2021

1

100kg/H Automatic soya chunks manufacturing process machine For Sale Senegal

2

80-100kg/h soya chunks manufacturing process plant For Sale Nigeria

3

150KG/H soya chunks manufacturing process equipment for sale Burkina Faso

4

150KG/H Automatic soya chunks manufacturing process machine For Sale Botswana

5

100-150kg/h soya chunks manufacturing process for sale Philippines

6

LY-65 soya chunks Food Processing Plant for sale Pakistan
Customer Case Of Soya Meat Protein Line At Discount Prices In 2021

1

1T/H Textured Artificial soya chunks manufacturing process production line For Sale Mozambique

2

Commercial artificial soya chunks food production line For Sale Austria

3

Small 100kg/h Automatic soya chunks manufacturing process machine Moldova

4

100-150kg/h soya chunks processing equipment for sale Ukraine

5

LY-70 small electric soya chunks manufacturing process manufacturing machine for sale Singapore
Cooperated Customer Request Engineer Installation With The Soya Technology In 2021

1

800kg/H soya chunks manufacturing process extruder For Sale Puerto Rico

2

400-500kg/H manufacturing process of soya chunks for sale Bolivia

3

1T/H soya chunks manufacturing process line cost For Sale Dominica

4

500kg/Hsoya chunks manufacturing processing line in Senegal

5

LY95 KG/H soya chunks manufacturing process line Price In Nigeria

6

2000 kg/H soya chunks manufacturing process factory For Sale Cote d'Ivoire

7

LY-85 Testing Machine for Soybean Meat/ Bari line cost for sale Cameroon

8

1000-1200kg/h Soybean Meat/ Bari equipment For Sale South Africa
Repurchase Case Of The Soya Chunks/ Nuggets Making Machine In 2021

1

100-150/H Textured Soybean Meat/ Bari manufacturing machine Thailand

2

Uzbekistan 500kg/h Soybean Meat/ Bari manufacturing process For Sale Uzbekistan (Tashkent)

3

300-500kg/H Soybean Meat/ Bari process extruder for sale Uzbekistan

4

800-1000kg/H Soybean Meat/ Bari manufacturing process Manufacturing Plant

5

200kg/H manufacturing process of Soybean Meat/ Bari for sale Zimbabwe

6

LY-70 automatic soya chunks manufacturing process line for sale Turkmenistan

7

100kg/h Automatic soya chunks manufacturing process machine for sale Honduras

8

Simple Design 200-250kg/hSoybean Meat/ Bari process extruder
Related Videos
Application of Fried Dough Snack Machine
This Double-screw fried wheat flour snack processing line uses double screw extruding technique to replace the traditional steam booling process with high efficiency and no pollution without a boiler. The raw material can be total...
Contact Us

Shandong Loyal Industrial Co.,Ltd.

Telephone

+86 18905316466

Email

[email protected]

WhatsApp

+86 18905316466

WeChat

18905316466

Address

C623, Jiahui Global Plaza, No. 548, Beiyuan Street, Tianqiao District, Jinan City, Shandong Province

Factory Address

ADD -300m North of Zhangxia Industrial Park, Binhe Road, Zhangxia Town, Changqing District, Jinan