Shandong Loyal Industrial Co.,Ltd.

Industrial Microwave Oven Food Extruder Machine Biscuit Making Machine

English
Home>Products>Industrial Deep Fat Fryer>Automatic Continuous Deep Fat Fryers Machine

Automatic Continuous Deep Fat Fryers Machine
automatic continuous deep fat fryer machine consists of automatic belt conveying system, elevating system, oil adding system, oil temperature controlling system; The China Industrial continuous food fryers manufacturer sold the industrial Fryer can use electricity, gas, and diesel as power source. continuous fryer machine system can achieve industrial production, has features easy operation, stable performance and long time working, labor saving, easy maintained.

Loyal

LYCF-L(electric fryer) LYCF-G (Gas/Diesel) LYCF-L-2 (electric fryer) LYCF-G-2 (Gas/Diesel)

Shandong, China

CE,ISO9001,SGS,BV

1 set/automatic continuous fryer

Contact Us

Wooden case or wooden pellets depended on clients' requirement

30 working days

T/T,L/C,D/P

30days /continuous frying systems
Product Description
Automatic continuous deep fat fryer machine is used to fry potato chips, doritos chips, fried snacks, french fries, peanuts, onions, chicken meats, pellet snacks, kurkure, Nik Naks, chataka pataka, Twisties, Bingo and many other foods. China Industrial Fryer manufacturer have many experience and rich knowledge, can provide you customized commercial continuous fryer machines according to your needs and requirements.
Continuous fryers equipmeent composed of several systems: wire belt convening system, wire belt lifting system, oil temperature control system, and oil circulatory system.
The Commercial continuous fryer machine can use electricity, oil, gas and coal heating. To prevent excess oil oxidation, our frying machines heat central section of oil layer, and control the temperature of upper and lower layer oil. Continuous deep fat fryer have double layer belt, can fry the products evenly, the products frying between two layers of wire belts, so that they can not run away freely. The stainless steel wire belt can transport the products with adjustable speeds.o prolong the oil's life span, our continuous fryer machine can automatically filter the oil, control the oil's temperature during the continuous food fryers process.
what is automatic CONTINUOUS fryer machine

TECHNOLOGY DESIGN?
The belt operation is changed by the speed regulating motor. After the chain and the chain gears and the gear transmission, the speed of the mesh belt can be adjusted. The frying time of different products is different.
The continuous fryers equipment has lifting device for easy cleaning, and the cover collects smoke to exclude the outside (can connect the chimney to the outside)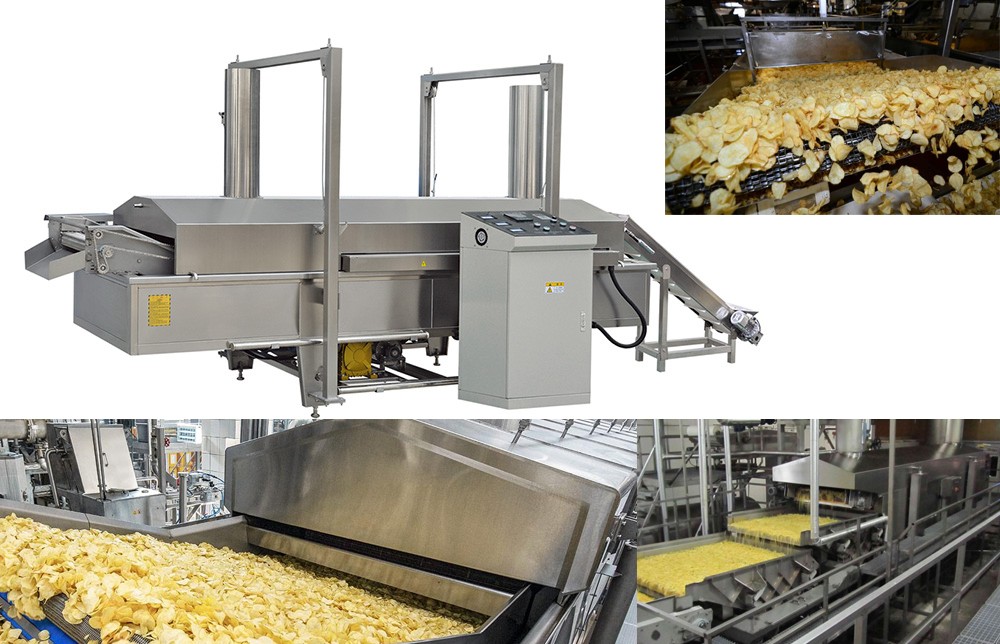 Technical Parameters OF COMMERCIAL continuous FRYER machine FOR SALE
Frying Equipment Model

Heating Power

Heating Temperature

Output

Size (L*W*H)

LYCF-L(electric fryer)

97kw/h

~250℃

300kg/h

3000x1200x2100mm

LYCF-G (Gas/Diesel)

6-20.5m³/h(Gas)

7-15kg/h(Diesel)

~250℃

300kg/h

3000x1200x2100mm

LYCF-L-2 (electric fryer)

122kw/h

~250℃

400-500kg/h

4000x1300x2200mm

LYCF-G-2 (Gas/Diesel)

35m³/h(Gas),

8-41kg/h (Diesel)

~250℃

400-500kg/h

4000x1300x2200mm
CONTINUOUS DEEP FAT fryer applications
Meat

Chicken Nuggets

Seafoods

Meatballs

Tempura Products

Pigskin

Vegetables

Coated Vegetables

French Fries

Hash Browns

Potato chips

onions

Nuts and seed

peanuts

Green Bean

Cashew Nut

Broad Bean

Banana Chips

Snacks Foods

Eggrolls

doritos chips

Shirmp chips

pellet snacks

kurkure
ADVANTAGES OF Automatic Continuous Deep Fat Fryers Machine
The main advantages of the pellet snack technology from food processing machinery manufacturers

1

--Machine construction in stainless steel

2

-Automatic oil temperature control ,Power leakage protection devices, The machine will cut off electric automatically and give an alarm when over temperature.

3

--Automatic oil level control

4

---The belt transmission adopts frequency conversion speed regulation. The frying time is controllable.

5

-- The fryer is equipped with an automatic lifting system, an upper cover and a belt that can be lifted and lowered for easy cleaning.

6

--- There is a slagging system at the bottom, and the residue generated at any time is discharged.

7

--- The upper and lower double-layer mesh belts are used for transmission, and the product is sandwiched between the double-layer mesh belts to prevent the product from floating.

8

--- The double mesh belt shifting adjustment ensures the different frying time of the fry, and ensures that the fry is smoothly heated and transported at 2 to 3 cm below the oil layer;

9

---With the gantry and lifting mechanism, the cover can be easily lifted and lowered for easy frying of food.

10

--The fryer can be equipped with an oil circulation filtration system to continuously filter the oil residue during the production process, reduce the acid value of the oil, restore the color of the oil, and prolong the service life of the edible oil.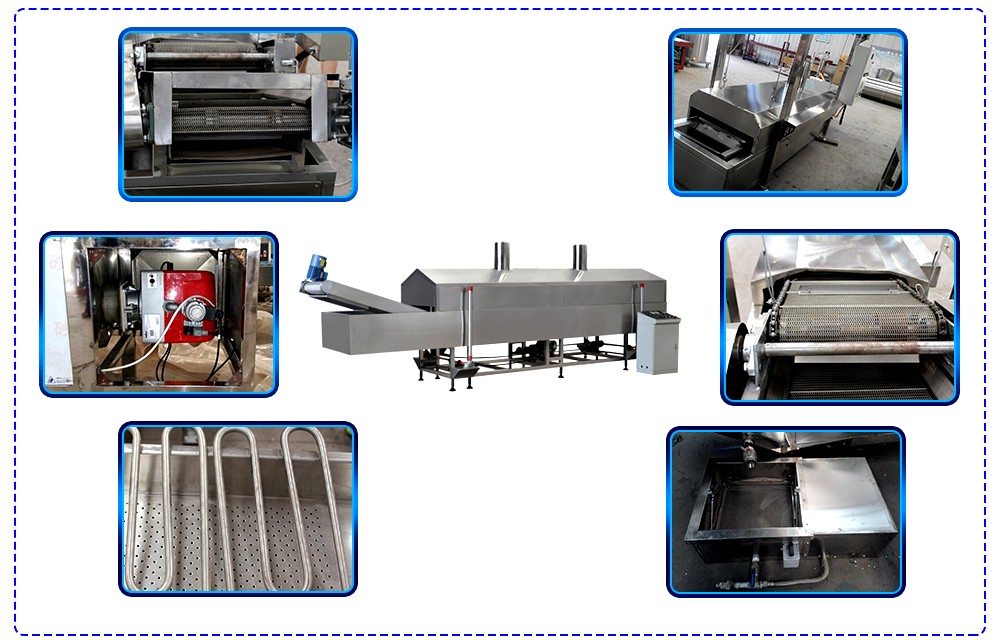 As a ontinuous fryer manufacturer before sales service for continuous fryers:
a.) We provide you the suitable continuous food fryers solution,which is useful and convenient
b.) We produced the continuous deep fryer you need in our factory,you can buy it without any hesitate.
c.) We provide you the factory design automatic continuous fryer processing line layout and also design for water and electric and gas etc.
d.) With much experienced technical team,we can meet customer personalized requirement,produce the customized industrial continuous fryer for you
Related Food Processing
How to work of Deep Fryer With Filter
Oil filter can extend the use time of frying oil to save production costs For example: ① Unit price of frying oil 8$/kg,Fryer have 500kgoil volume,running 7days,The unit price of used oil is 3$/kg,working 12h /day. Then it can be...
Deep-Fried Snacks Food Manufacturing Process
Deep-fried snacks food manufacturing process can produce wheat flour snacks, french fries, crispy corners, and bugle bites. By changing the die of the snack food processing machine, a variety of shapes can be produced. The more complex three-dimensional...
Contact Us

Shandong Loyal Industrial Co.,Ltd.

Telephone

+86 18905316466

Email

[email protected]

WhatsApp

+86 18905316466

WeChat

18905316466

Address

No.700-712 Sushan Road, Huaiyin Dist., Jinan, Shandong, China

Factory Address

No.88#,Baotou Street, Ningyang Economic Development Zone, Taian City, Shandong Province, China