Shandong Loyal Industrial Co.,Ltd.

Industrial Microwave Oven Food Extruder Machine Biscuit Making Machine

English
Home>Products>Pellet Snack Making Machine>Snack Pellet Production Lines

Snack Pellet Production Lines
Snack pellet production line uses potato starch, potato flakes, corn starch, corn powder, wheat flour, cassava starch etc as raw materials, by the pellet production process of mixing, extruding, shaping and drying to produce dried snacks pellets. this snack pellets manufacturing process can produce many innovative shapes.

Loyal

SPL-2020

Shandong China

CE,ISO9001,SGS,BV

1 set/snack pellet extruder

Contact Us

Wooden case or wooden pellets depended on clients' requirement

30 working days

L/C,T/T,D/P

30days /3d snacks pellets machine
Snack Pellet Production Lines Details
Capacity
80-500kg/h
Applicable Industries
snack pellet Manufacturing Plant, snack pellet Beverage Factory, 3d snacks pellets Restaurant
Condition
New
Equipment Material
Stainless Steel/Carbon Steel
Extruder machine suppliers
Loyal Factory
Function
Multifunction
HS Code
84388000
Installation
Engineer Guide
Inverter
Customizable
Key Selling Points
Competitive Price
Key Words
Snack Pellet Production Line
Machinery Test Report
Provided
Model
SNP-1 SNP-2 SNP-3
Place of Origin
Shandong, China
Processing Types
extruder for food processing
Voltage
customizable
Snack Pellet Production Lines Description
For the snack pellet production lines before we always use single screw extruder. The single screw extruder food processing is raw material is kneaded under high pressure and cooked by the frictional heat produced between the barrel and screw.
We have two type of screw, high pressure screw and lower pressure screw. It is automatic dosing unit for utilization with any type of flours and starch. The nozzles (dies) at the outlet form the shape, such as animal shape, star or flowershape, etc.
The dough is then cut to make different half pellets snacks. Then this half pellet snacks would be dried to appropriate moisture content on lower tempreture drying machine for either frying or roasting afterward.Through the different nozzles can get different size or thinkness, and also if you want to get longth pellet snacks are obtainable depending on the optional cutting systems available such as pulling cutting or chips chutting to get long products (tube over 30mm) or different chips, like potato chips or wave chips etc.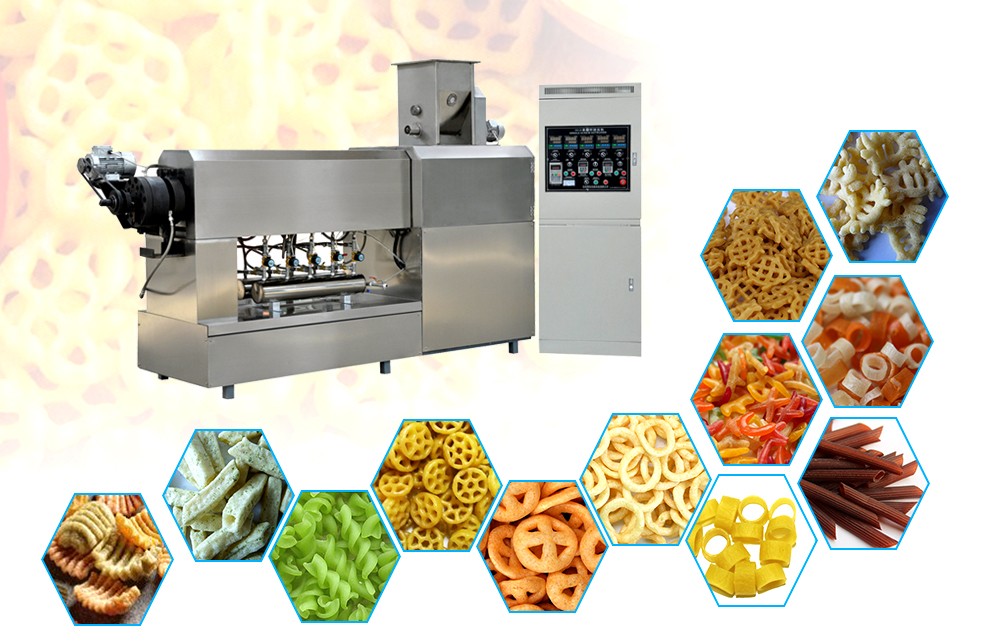 Now the pellet snacks market is big, more and more company need increase the capacity. Now our multifunctional twin-screw extruder devices are widely integrated in snack pellet lines. double screw extruder VS. single screw extrusion, the twin screw significant productivity and quality advantages. Twin screw food snack pellet making machine with continuous production, greater flexibility and automation options to produce consistent and innovative products.
How does the snack pellet production line work?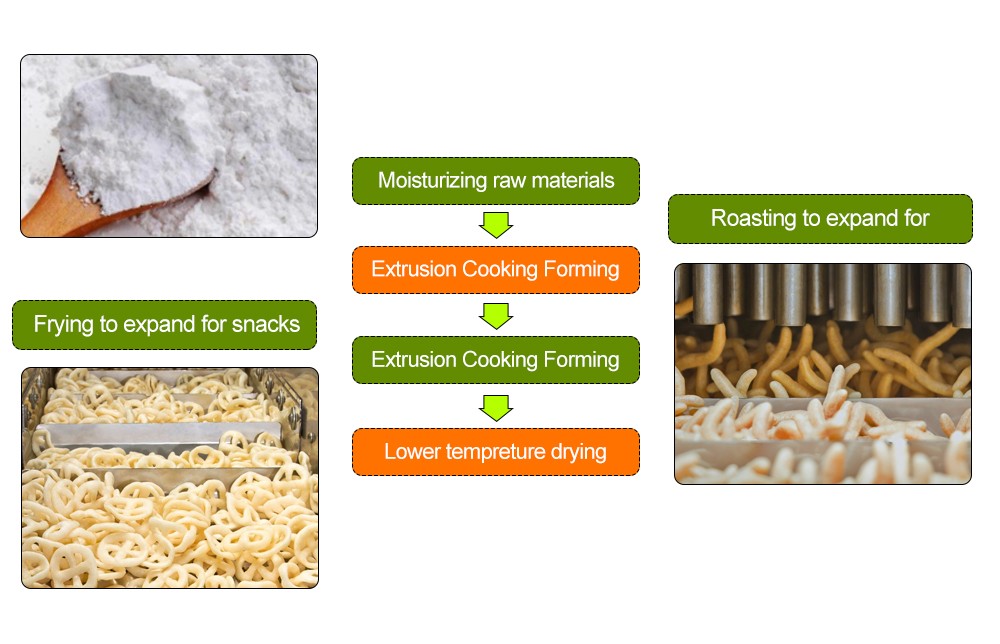 HALF SNACLS PELLET CONTINUOUS SNACK PELLETS MANUFACTURING PROCESS

NO.

NAME

QUANTITY

1

MIXER

1 SET

2

SCREW CONVEYOR

1 SET

4

LT100 SINGLE SCREW EXTRUDER WITH COOLING SYSTEM

1 SET

5

COOLING CONVEYOR

1 SET

6

PULLING CUTTING MACHINE/CHIPS MACHINE (FOR CHOOSE)

1 SET

7

VIBRATE COOLING CONVEYOR

1 SET

8

HOISTER

1 SET

9

LOWER TEMPRETURE DRYING MACHINE

1 SET

10

COOLING CONVEYOR

1 SET
PELLET PRODUCTION EQUIPMENT TECHNOLOGY DESIGN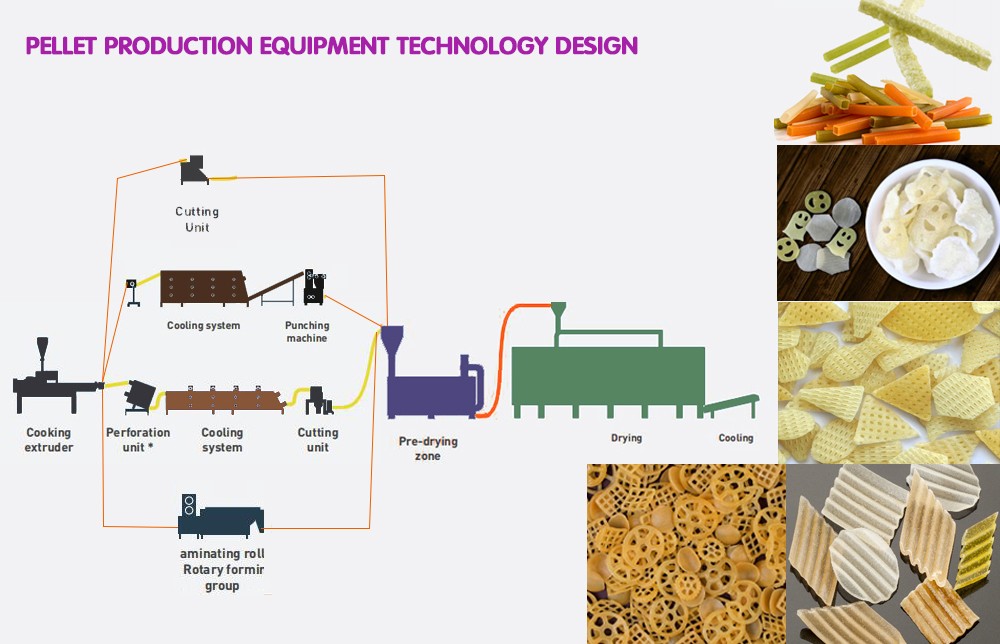 3D SNACKS PELLETS MACHINE TECHNOLOGY DESIGN
Pellet snacks are produced dried and semi-processed for easy storage and shipment and in a second phase are expanded, seasoned and packed.

SEMI-AUTOMATIC EXPANDS SNACKS PRODUCTION LINE

NO.

NAME

QUANTITY

1

MIXER

1 SET

2

SCREW CONVEYOR

1 SET

3

LY100 SINGLE SCREW EXTRUDER WITH COOLING SYSTEM

1 SET

4

COOLING CONVEYOR

1 SET

5

PULLING CUTTING MACHINE/CHIPS MACHINE

1 SET

6

VIBRATE COOLING CONVEYOR

1 SET

7

COOLING BELT

1 SET

8

DRYING BOX

2 SETS

9

BATCH FRYER

1 SET

10

LTS-I FLAVORING MACHINE

1 SET
Technical Parameters OF snack pellet extruder FOR SALE
DIFFERENT MODEL OFS NACK PELLET EXTRUDER PROCESSING FOR SALE

Model

Installed Power

Power Consumption

Output

Size (L*W*H)

SNP-1

172kw

120kw

100kg/h

27000x2000x2000mm

SNP-2

234kw

164kw

250-300kg/h

30000×2000×2000mm

SNP-3

525kw

394kw

400-600kg/h

43000*2000*3200mm

Applied snacks making machine Products for sale:

pellet snacks,2D pellet, 3D pellet, and special dietary pasta
Standard Ingredients FOR RAW MATERIALS RECIPT IN SNACK extruder pellet machineS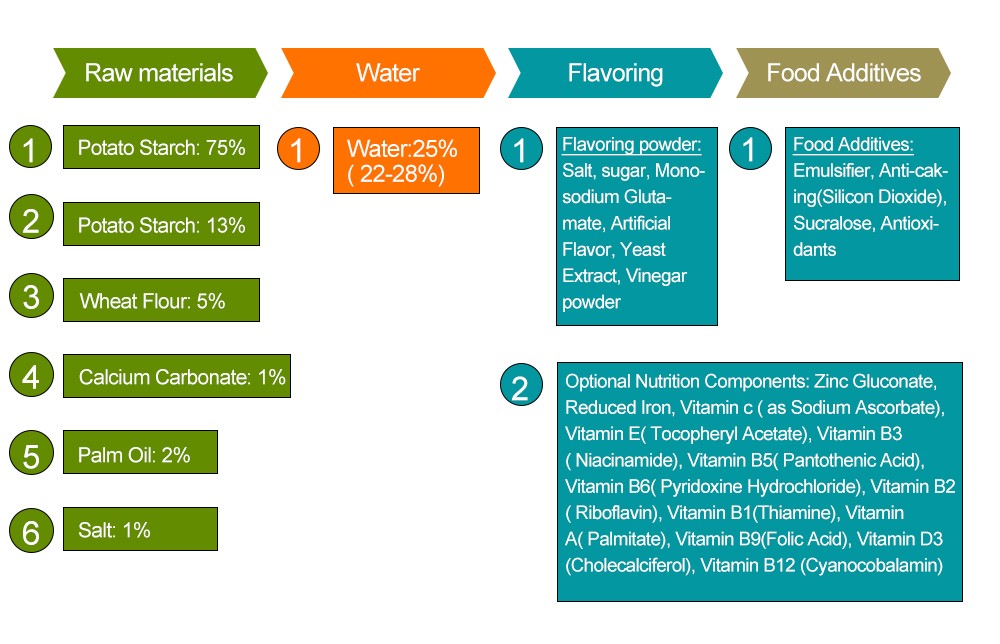 pellet making machine in food applications
DIE-FACE CUT PELLETS

DIE-DISTANT CUT PELLET

LAMINATED POTATO PELLETS

3D PELLET

PUNCHED PELLET

advantages for snack pellet extrusion process lines
| | |
| --- | --- |
| 1 | this process can make any type of starch-based raw material |
| 2 | Control of flow and temperature in the barrel and that make pellet dimensions regularity |
| 3 | Easy changes in recipes and new product shapes |
| 4 | Temperature regulation control for every module |
| 5 | Drastically reduced space requirement |
| 6 | Capacity ranging from 80 up to 500 kg/h of dried pellets |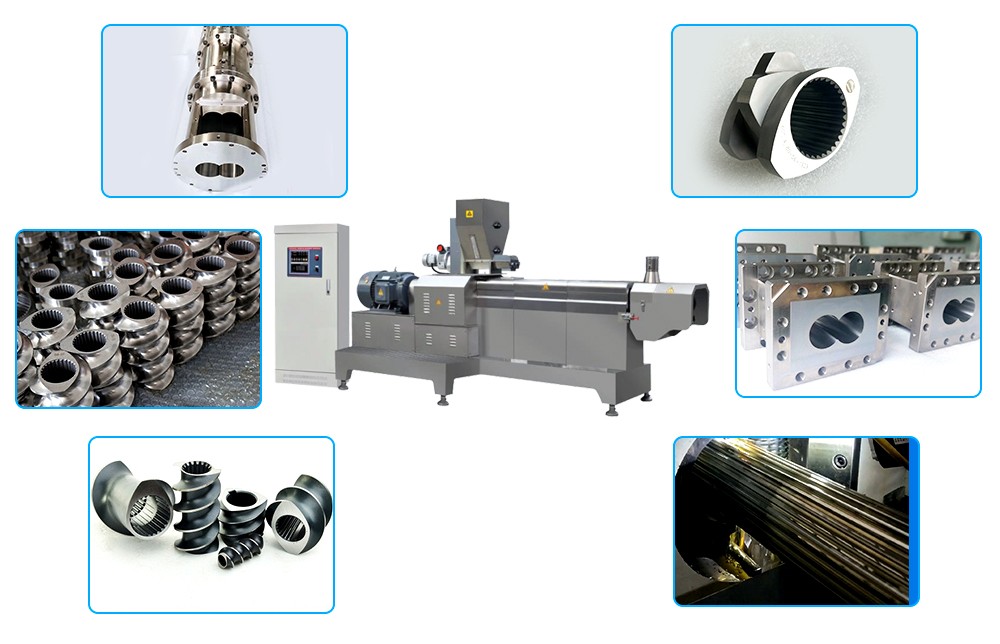 After frying, the pellet will expand to several times, spraying some seasoning powder will make them much crispy and savory.snacks pellets machine is characterized by unique technique, rational configuration, high automation and stable performance.
Snack Pellet Production Lines Process Video
Related Processing
Single Screw Cooking Forming Extruder Process technology
single screw cooking forming extruder manufacturer of semi-finished pellets chips and snacks making. Cooking forming extruder use single screw extruder technologies based on our own developments and achievements of the world's leading pellet...
Contact Us

Shandong Loyal Industrial Co.,Ltd.

Telephone

+86 18905316466

Email

[email protected]

WhatsApp

+86 18905316466

WeChat

18905316466

Address

No.700-712 Sushan Road, Huaiyin Dist., Jinan, Shandong, China

Factory Address

ADD -300m North of Zhangxia Industrial Park, Binhe Road, Zhangxia Town, Changqing District, Jinan