Shandong Loyal Industrial Co.,Ltd.

Industrial Microwave Oven Food Extruder Machine Biscuit Making Machine

English
Home>Products>Soya Nuggets Extruder>Soya Badi Making Machine

Soya Badi Making Machine
Soya badi making machine is tissue-shaped soy protein manufacture use soy protein isolate and soybean defatted soy flour as raw materials, soya badi manufacturing process by milling, mixing, extruding, cutting and packing to get isolated protein/textured soya protein/vegetarian soya meat for sale.

Loyal

TVP 52 TVP 70 TVP 75 TVP 90

Shandong China

CE,ISO9001,SGS,BV

1 set/Soya Badi Making Machine

Contact us

Wooden case or wooden pellets depended on clients' requirement

45 working days

T/T,L/C,D/P

45days /soya badi production line
Soya Badi Making Machine Details
| | | | | | |
| --- | --- | --- | --- | --- | --- |
| After-sales Service Provided | Engineers available to service machinery overseas | Automation | Fully Automatic | baking fuel | electric,gas,diesel,LPG |
| Capacity | 120-150kg/h,200-300kg/h,500-800kg/h | Certification | CE BV ISO 9001 | Condition | New |
| Dimension(L*W*H) | max 20000x3500x4300mm | Flow chart | mixing powder—extrusion and puffing—packing | Inverter Brand | DELTA |
| Machines Materials | stainless steel | Place of Origin | Shandong, China | Power(W) | 70kw, 128kw, 170kw |
| Products | soybean protein,soya nuggets,vegetable meat | Raw materials | soybean meal,peanut meal ect | Trial Demonstration | Welcome You To Visit Us At Any Time For Machinery Demonstration |
| Type | soy badi making machine, soya nuggets plant | Warranty | 1 year | Weight | 1-3T |
Soya Badi Making Machine Description
Tissue-shaped soy protein is a food prepared from soya badi manufacturing process,it is also named soya nuggets & chunks and use soy protein isolate and soybean defatted soy flour as raw materials. Defatted soybeans, 70% protein soy flour, separated soy protein, etc. are mixed with water, food additives, etc. The soya badi manufacturing process by crushing, stirring, heating and direct Steam-strengthening pretreatment, followed by physical processing such as mixing, extruding, shearing, and forming through an extruder.
While sterilizing raw materials, protein organization, starch alpha, and enzyme passivation during the extrusion process Such as chemical treatment, melting, high temperature treatment, cooling, drying and other heat treatments, due to its good water absorption and oil retention.

Soya Badi Manufacturing Process
Isolated Protein/Textured Soya Protein/Vegetarian Soya Meat can be used as a substitute for meat to make various flavored vegetarian foods, and protein is added to meat products , It can increase the color, aroma and taste of meat products, increase the content of protein, and promote the integrity of particles, so it is also an ideal additive for meat products.
soya badi machine Technical Parameters
| | | | | |
| --- | --- | --- | --- | --- |
| Model | Installed Power | Power Consumption | Throughput | Dimension |
| TVP 52 | 68kw | 51kw | 50~150kg/h | 23000×3100×2800mm |
| TVP 70 | 194kw | 145kw | 150~400kg/h | 27000×3200×3100mm |
| TVP 75 | 131kw | 98kw | 200~350kg/h | 25000×3100×3100mm |
| TVP 90 | 240kw | 180kw | 400~800kg/h | 24000×4400×2800mm |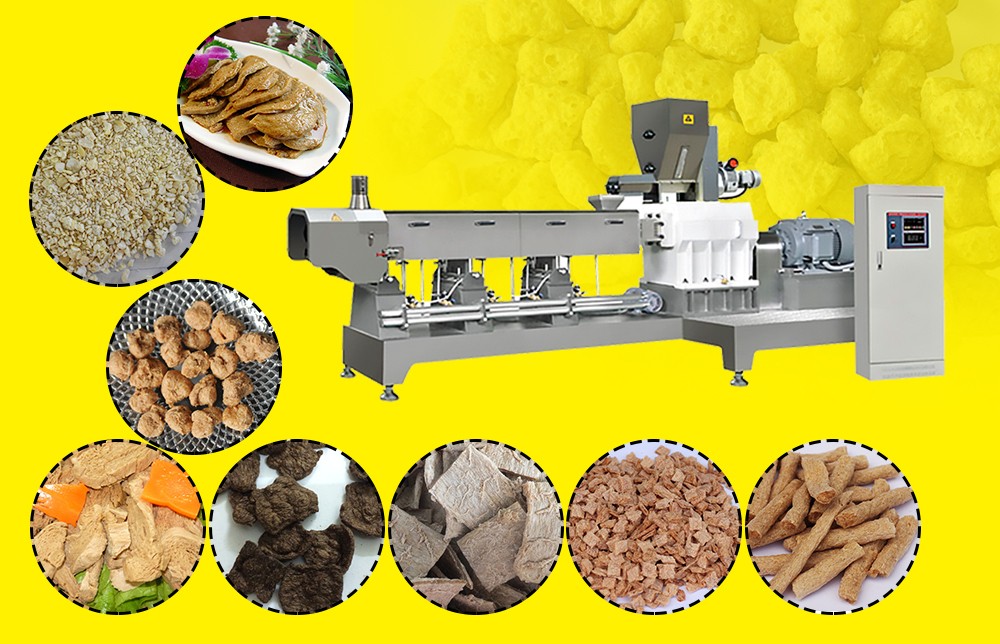 Soya Badi Manufacturing Process
The quality requirements of finished soybean tissue protein
ISOLATED PROTEIN QUALITY REQUIREMENTS

Uniform surface color

No hardness

Flexible

With water and oil absorption

Porous sponge

Vegetarian Soya Meat Specifications

protein (N×6.25, dry basis) ≥50%

moisture ≤8.0%

coarse Fat (dry basis) ≤2.0%

Crude fiber (dry basis) ≤3.5%

Ash (dry basis) ≤7.0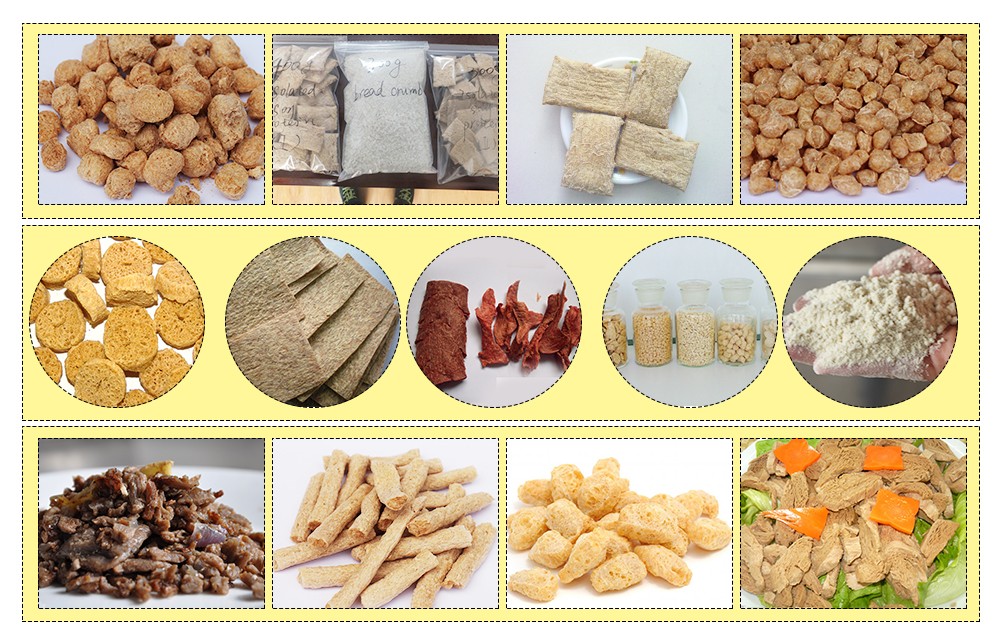 Sample of soy protein production line
SOybean Meat/ Bari Manufacturing process and product specifications
Soybean tissue protein is mainly through a twin-screw extruder, defatted soybean, concentrated soybean protein or separated soybean protein, adding a certain amount of water and additives to mix evenly, forcibly heating, pressurizing, and extruding to make the protein molecules. Soya nugget are neatly arranged to produce a tissue structure in the same direction, and at the same time solidify to form fibrous protein and have a similar chew to meat.
Soya badi Processing line technology flow:
peeling—crushing—mixing powder—extrusion and puffing—cutting and forming—conveying—baking—oil spraying and seasoning—packing

Soya Badi Processing Line Technology Flow
| | |
| --- | --- |
| Peeling machine | After the low temperature soybean meal is crushed, the particle size reaches more than 80 mesh |
| Milling machine | Add different raw materials and auxiliary materials to the powder mixer according to the proportion to mix various materials. After starting to mix all the materials, add water to mix evenly. |
| Mixing machine | Mixing raw materials as recipt for Soya Nuggets (Badi) Making Machine. |
| Twin Screw Extruder | During the soya badi extrusion process, the material is placed in a sealed barrel equipped with a screw (spindle). When the screw rotates and performs a compound motion, due to the friction of the soya bari manufacturing process, the shear force inside the material, and The heat energy from the outside of the barrel gradually increases the temperature of the material and reaches a high temperature state; and because the material is in a sealed state, high pressure is generated as the sealing volume changes and the temperature increases, so the dual role of the material at high temperature and high pressure. Next, it gradually becomes the gel state of the overheated rheology, and obtains a lot of energy, changing the original physical and chemical properties. When the material is extruded into the normal temperature and pressure state through the die, a large amount of energy is released instantly, and the volume expands rapidly. The twin screw extruder is equipped with a mold at the end, and the mold can be replaced to make the product form a different shape |
| Cutting And Forming Machine | After the soya badi is normally extruded from the die head (no foreign matter, good expansion), turn on the rotary cutting motor (start the motor after setting the knife), then close the rotary cutting cover, adjust the rotary cutting speed, and cut the product into the desired shape and shape after the variable speed knife length |
| Conveyor | The shaped product is cooled by the conveyor belt and sent to the automatic industrial oven |
| Baking Machine | Drying time and temperature can be adjusted, temperature control is divided into four upper sections, the first section 35-40 ℃, the second section 115-120 ℃, the third section 90-100 ℃, the fourth section 85-90 ℃ . After general drying, the moisture content of the material is below 5%-7% |
| Oil Spraying And Seasoning Machine | After the oil is sprayed, the material enters the condiment machine, the two-layer cylindrical structure, and the spiral channel between them. When the product is suspended and rotated in the spiral channel, it is sprayed with a certain concentration of seasoning powder in the air flow. The ingredients and spray materials can be selected according to different tastes. |
| Packing Machine | After drying and cooling process, it is screened by vibrating screen into the finished product warehouse and packed into bags. |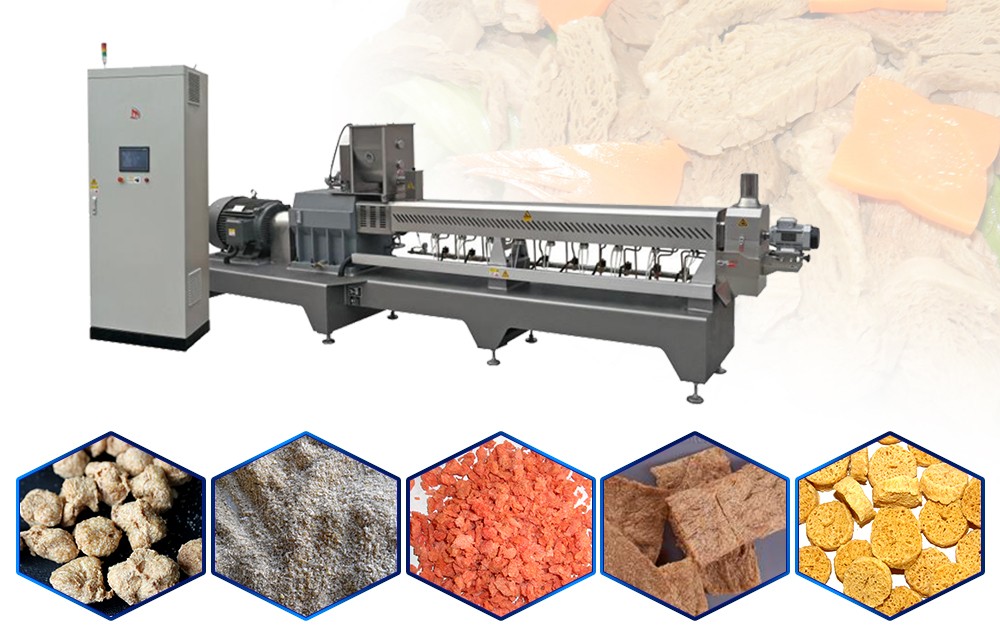 Soya Badi Manufacturing Process
Cooperated Customer For Laboratory Machine Of The Soya Meat Processing Line In 2021

1

100kg/H Automatic soya chunks manufacturing process machine For Sale Senegal

2

80-100kg/h soya chunks manufacturing process plant For Sale Nigeria

3

150KG/H soya chunks manufacturing process equipment for sale Burkina Faso

4

150KG/H Automatic soya chunks manufacturing process machine For Sale Botswana

5

100-150kg/h soya chunks manufacturing process for sale Philippines

6

LY-65 soya chunks Food Processing Plant for sale Pakistan
Customer Case Of Soya Meat Protein Line At Discount Prices In 2021

1

1T/H Textured Artificial soya chunks manufacturing process production line For Sale Mozambique

2

Commercial artificial soya chunks food production line For Sale Austria

3

Small 100kg/h Automatic soya chunks manufacturing process machine Moldova

4

100-150kg/h soya chunks processing equipment for sale Ukraine

5

LY-70 small electric soya chunks manufacturing process manufacturing machine for sale Singapore
Cooperated Customer Request Engineer Installation With The Soya Technology In 2021

1

800kg/H soya chunks manufacturing process extruder For Sale Puerto Rico

2

400-500kg/H manufacturing process of soya chunks for sale Bolivia

3

1T/H soya chunks manufacturing process line cost For Sale Dominica

4

500kg/Hsoya chunks manufacturing processing line in Senegal

5

LY95 KG/H soya chunks manufacturing process line Price In Nigeria

6

2000 kg/H soya chunks manufacturing process factory For Sale Cote d'Ivoire

7

LY-85 Testing Machine for Soybean Meat/ Bari line cost for sale Cameroon

8

1000-1200kg/h Soybean Meat/ Bari equipment For Sale South Africa
Repurchase Case Of The Soya Chunks/ Nuggets Making Machine In 2021

1

100-150/H Textured Soybean Meat/ Bari manufacturing machine Thailand

2

Uzbekistan 500kg/h Soybean Meat/ Bari manufacturing process For Sale Uzbekistan (Tashkent)

3

300-500kg/H Soybean Meat/ Bari process extruder for sale Uzbekistan

4

800-1000kg/H Soybean Meat/ Bari manufacturing process Manufacturing Plant

5

200kg/H manufacturing process of Soybean Meat/ Bari for sale Zimbabwe

6

LY-70 automatic soya chunks manufacturing process line for sale Turkmenistan

7

100kg/h Automatic soya chunks manufacturing process machine for sale Honduras

8

Simple Design 200-250kg/hSoybean Meat/ Bari process extruder
Related Processing
Fried Dough Snack Processing Line Manufacturing Project Report
Fried dough snack process line uses wheat flour as main materials, after making the dough, sheets the dough by compound rollers, and then shapes the sheet into different shapes. After frying and flavoring, we can get crispy and savory snacks food. This...
Related Videos
The principle of Soya Nuggets Making Machine
Textured Soybean protein food processing line is developed and manufactured on base of our experience combined with the advanced machine from foreign countries. This line takes soybean dreg and peanut dregs as main raw materials....
Contact Us

Shandong Loyal Industrial Co.,Ltd.

Telephone

+86 13256674591

Email

[email protected]

WhatsApp

+86 13256674591

WeChat

13256674591

Address

C623, Jiahui Global Plaza, No. 548, Beiyuan Street, Tianqiao District, Jinan City, Shandong Province

Factory Address

ADD -300m North of Zhangxia Industrial Park, Binhe Road, Zhangxia Town, Changqing District, Jinan