Shandong Loyal Industrial Co.,Ltd.

Industrial Microwave Oven Food Extruder Machine Biscuit Making Machine

English
Home>Products>Soya Nuggets Extruder>Soya Chunks Manufacturing Machine

Soya Chunks Manufacturing Machine
Soya Chunks Manufacturing machine is mix defatted soybeans, 70% protein soy flour, separated soy protein, etc. with water, food additives, etc., strengthen the pretreatment by crushing, stirring, heating and direct steam, and then mix, extuding, cutting, Physical processing such as forming, while sterilizing the raw materials and organizing the protein during the extrusion process to get textured soya protein, vegetarian soya meat, soya badi, soya chunks for sale.

Loyal

TVP 52 TVP 70 TVP 75 TVP 90

Shandong China

CE,ISO9001,SGS,BV

1 set/soya chunk production line

Contact us

Wooden case or wooden pellets depended on clients' requirement

45 working days

L/C,T/T,D/P

45days /soya chunk making machine
Soya Chunks Manufacturing Machine Details
| | | | | | |
| --- | --- | --- | --- | --- | --- |
| After-sales Service Provided | Engineers available to service machinery overseas | Automation | Fully Automatic | Dryer baking fuel | electric,gas,diesel,LPG |
| Capacity | 120-150kg/h,200-300kg/h,500-800kg/h | Certification | CE BV ISO 9001 | Condition | New |
| Dimension(L*W*H) | max 20000x3500x4300mm | Flow chart | mixing powder—extrusion and puffing—packing | Inverter Brand | DELTA |
| Machines Materials | stainless steel | Place of Origin | Shandong, China | Power(W) | 70kw, 128kw, 170kw |
| Products | soya chunk,soybean protein,soya nuggets,vegetable meat | Raw materials | soybean meal,peanut meal ect | Trial Demonstration | Welcome You To Visit Us At Any Time For Machinery Demonstration |
| Type | Soya Chunks Manufacturing Machine | Warranty | 1 Year | Weight | 1T |
Soya Chunks Manufacturing Machine Description
Soya Chunks is high-quality soy protein isolate, soybean defatted soy flour as the main raw material, vegetable protein is processed by extrusion and texturing process, Soya chunks is a protein food with a similar lean fiber structure and chewing feeling.
Soya Chunks Manufacturing Project can get organized protein products. After hydration in production, it has uniform organizational characteristics and specific organizational structure. Adding 10-20% brushed protein to meat products can replace beef and pork, which does not affect the quality of the product and reduces the cost of raw materials. It also prevents the meat from shrinking and has higher nutritional value. Textured Soya Protein contains natural antioxidants. After adding Textured Soya Protein to meat products, it can play a protective role and reduce oxidative rancidity. In recent years, as a new plant protein, Vegetarian Soya Meat is replacing pork, beef, etc., which are widely used in meat products, spicy foods, and snack foods.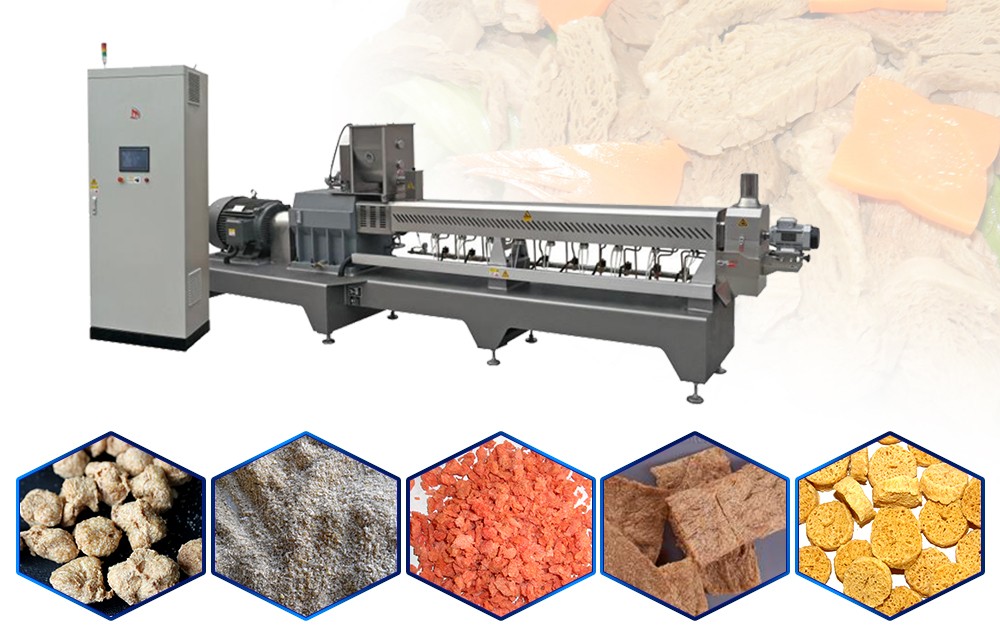 Soya Meat Processing Line
Technical Parameters FOR soya chunks making machine
| | | | | |
| --- | --- | --- | --- | --- |
| Model | TVP 52 | TVP 70 | TVP 75 | TVP 90 |
| Installed Power | 68KW | 194kw | 131kw | 240kw |
| Power Consumption | 51kw | 145kw | 98kw | 180kw |
| Capacity | 50~150kg/h | 150~400kg/h | 200~350kg/h | 400~800kg/h |
| Dimension | 23000×3100×2800mm | 27000×3200×3100mm | 25000×3100×3100mm | 24000×4400×2800mm |
how to make soya chunks?
peeling—crushing—mixing powder—extrusion and puffing—cutting and forming—conveying—baking—oil spraying and seasoning—packing
Process of soybean protein production line
soya chunks recipes
soya chunks protein content

Protein isolate 70%

wheat protein 10%

soybean meal 10%

starch 10%

Target objectives:

texture, mouthfeel and appearance

Textured vegetable proteins:

Soy, wheat gluten base, pea, lupin, lentil and legume

Recipe add-ins:

Salt, coloring, starches, oils and flavors

Key points: multi-zone extruder for formulation and temperature control

Zone 1; 80℃    

Zone 2: 140℃ 

Zone 3: 170℃  

temperature-controlled cooling mold temperature: 80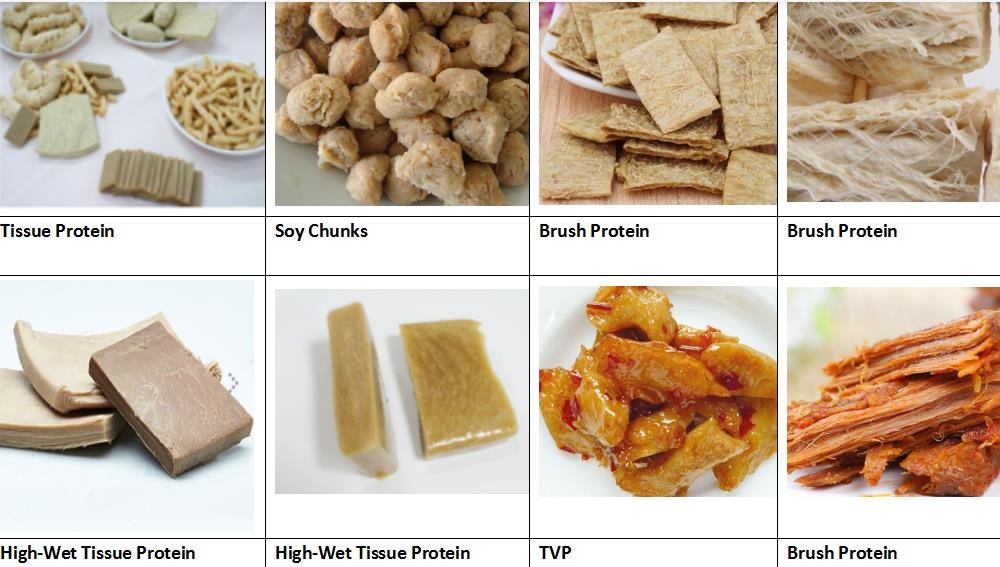 Sample of soy protein production line
Plant tissue protein must meet three conditions
Organized, that is, have a lean meat-like fiber structure, after rehydration has a certain elasticity and toughness
The degree of puffing is conducive to softening by water absorption, which is the inevitable result of organization.
The nutritional value should be changed. But its minimum requirements for nutrients remain basically unchanged.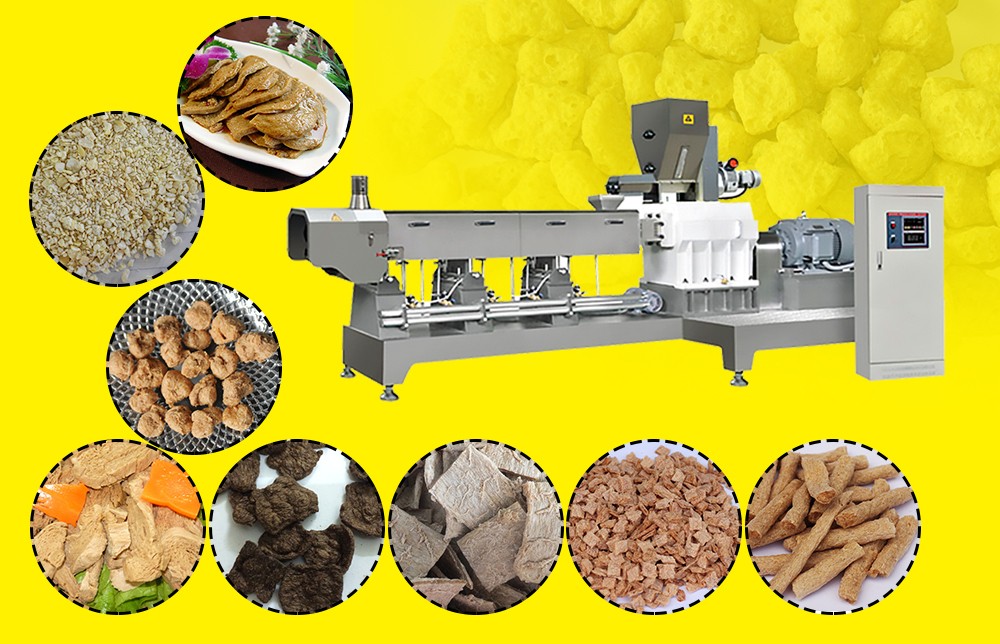 Soya Chunks Manufacturing Plant
Introductions of EXTRUDERS of the SOYA CHUNKS MANUFACTURING PLANT
The new extruder we specially designed for plant protein extrusion.
It processes low temperature soya meal and peanut meal to meat-like food
It can be added into ham, sausage, can food, fast food and deepfreeze food for more taste.
Textured vegetarian soy protein machine uses nonfat soybean meal as main material to produce all kinds of soybean protein food and vegetarian meat, which are nutritional and easily absorbed by human body.
The texture soy protein is like muscle and has the sense of mastication. Textured soybean protein is widely applied to many industries, such as can, seasoning, ham, meat, cooking, etc.
Cooperated Customer For Laboratory Machine Of The Soya Meat Processing Line In 2021

1

100kg/H Automatic soya chunks manufacturing process machine For Sale Senegal

2

80-100kg/h soya chunks manufacturing process plant For Sale Nigeria

3

150KG/H soya chunks manufacturing process equipment for sale Burkina Faso

4

150KG/H Automatic soya chunks manufacturing process machine For Sale Botswana

5

100-150kg/h soya chunks manufacturing process for sale Philippines

6

LY-65 soya chunks Food Processing Plant for sale Pakistan
Customer Case Of Soya Meat Protein Line At Discount Prices In 2021

1

1T/H Textured Artificial soya chunks manufacturing process production line For Sale Mozambique

2

Commercial artificial soya chunks food production line For Sale Austria

3

Small 100kg/h Automatic soya chunks manufacturing process machine Moldova

4

100-150kg/h soya chunks processing equipment for sale Ukraine

5

LY-70 small electric soya chunks manufacturing process manufacturing machine for sale Singapore
Cooperated Customer Request Engineer Installation With The Soya Technology In 2021

1

800kg/H soya chunks manufacturing process extruder For Sale Puerto Rico

2

400-500kg/H manufacturing process of soya chunks for sale Bolivia

3

1T/H soya chunks manufacturing process line cost For Sale Dominica

4

500kg/Hsoya chunks manufacturing processing line in Senegal

5

LY95 KG/H soya chunks manufacturing process line Price In Nigeria

6

2000 kg/H soya chunks manufacturing process factory For Sale Cote d'Ivoire

7

LY-85 Testing Machine for Soybean Meat/ Bari line cost for sale Cameroon

8

1000-1200kg/h Soybean Meat/ Bari equipment For Sale South Africa
Repurchase Case Of The Soya Chunks/ Nuggets Making Machine In 2021

1

100-150/H Textured Soybean Meat/ Bari manufacturing machine Thailand

2

Uzbekistan 500kg/h Soybean Meat/ Bari manufacturing process For Sale Uzbekistan (Tashkent)

3

300-500kg/H Soybean Meat/ Bari process extruder for sale Uzbekistan

4

800-1000kg/H Soybean Meat/ Bari manufacturing process Manufacturing Plant

5

200kg/H manufacturing process of Soybean Meat/ Bari for sale Zimbabwe

6

LY-70 automatic soya chunks manufacturing process line for sale Turkmenistan

7

100kg/h Automatic soya chunks manufacturing process machine for sale Honduras

8

Simple Design 200-250kg/hSoybean Meat/ Bari process extruder
Related Processing
Fried Dough Snack Processing Line Manufacturing Project Report
Fried dough snack process line uses wheat flour as main materials, after making the dough, sheets the dough by compound rollers, and then shapes the sheet into different shapes. After frying and flavoring, we can get crispy and savory snacks food. This...
Related Videos
Application of Fried Dough Snack Machine
This Double-screw fried wheat flour snack processing line uses double screw extruding technique to replace the traditional steam booling process with high efficiency and no pollution without a boiler. The raw material can be total...
The principle of Soya Nuggets Making Machine
Textured Soybean protein food processing line is developed and manufactured on base of our experience combined with the advanced machine from foreign countries. This line takes soybean dreg and peanut dregs as main raw materials....
Contact Us

Shandong Loyal Industrial Co.,Ltd.

Telephone

+86 18905316466

Email

[email protected]

WhatsApp

+86 18905316466

WeChat

18905316466

Address

C623, Jiahui Global Plaza, No. 548, Beiyuan Street, Tianqiao District, Jinan City, Shandong Province

Factory Address

ADD -300m North of Zhangxia Industrial Park, Binhe Road, Zhangxia Town, Changqing District, Jinan