Shandong Loyal Industrial Co.,Ltd.

Industrial Microwave Oven Food Extruder Machine Biscuit Making Machine

English
Home>Products>Corn Puff Snacks Production Line>Corn Puff Snacks Making Machine

Corn Puff Snacks Making Machine
The corn puff snacks making machine manufacturing process can finish mixing, extruding, shaping, core-filling, cutting, baking and flavoring in one-pass operation automatically. By changing the moulds and process technology, this snacks production machines can making core-filled snacks, like chocolate filled bar, cream filled pillow, rice cake, cereal bar, sheet snacks for sale.

Loyal

Snacks making machine

Shandong,China

CE,ISO9001,SGS,BV

1 set/puff making machine

Contact Us

Wooden case or wooden pellets depended on clients' requirement

30 working days

T/T,L/C,D/P

30days /corn puff extruder machine
Corn Puff Snacks Making Machine Details
| | | | | | |
| --- | --- | --- | --- | --- | --- |
| Applicable Industries | corn puff Shopping market, puff Manufacturing Plant,snack food Factory | Condition | New | Capacity | 100-150g/h 200-250kg/h 300-500kg/h 300-500kg/h 800-1000kg/h |
| Converter | customizable | food processing machinery manufacturers | Loyal Factory | Equipment Material | Stainless Steel/Carbon Steel |
| Function | Multifunction | Heating source for continuous dryer | Electric/Gas/Steam | HS Code | 84388000 |
| Installation | Engineer Guide | Key Selling Points | Competitive Price | Key Words | Puffed Snack making machin |
| Machinery Test Report | Provided | Main Machine | corn puff extruder machine | Model | LY65 LY70 LY85 LY75 LY95 |
| Voltage | customizable | Place of Origin | Shandong, China | Processing Types | snack making machine |
Corn Puff Snacks Making Machine Description
Corn Puff Snacks Making Machine is used for making various of puff snacks, corn puffs,chocolate filled bar,cream filled pillow, bread snacks and so on. snack food machine with corn and rice or others different grain powder as the raw material . The main machine of snack production is twin screw extruder, the puffs food produced from puff snack extruder is the semi-finished products.
This puffed food processing machine can finish mixing, extruding, shaping, core-filling, cutting, baking and flavoring in one-pass operation automatically. After the final snack food processing, the products become extremely even and crisp. This snacks production machines is a good quality corn puffed extruder snack machine.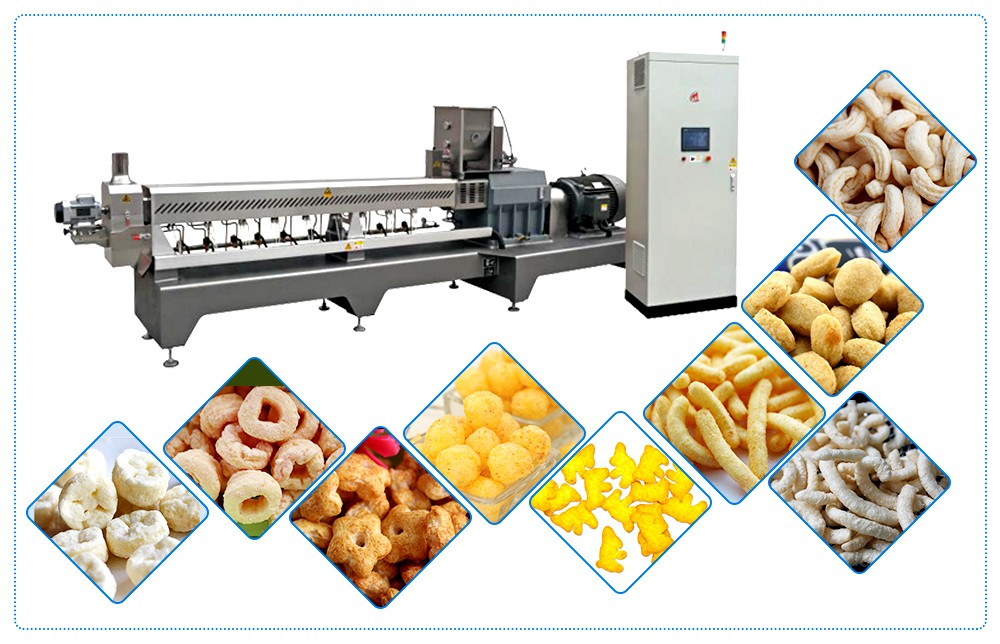 Corn Puff Snacks Making Machine
How does the snacks to make FROM PUFF SNACKS MAKING MACHINE?
The primary step in the food machinery manufacturers of puffy snacks is the extrusion of the grain mixture.Controlled weights of flour, ingredients and water are introduced into a batch mixer, according to the recipe for the end product. The mix is fed continuously and uniformly to the extruder and cooked at the right level. Using a tapered screw, the extruder forces the mixture against the inside of the extrusion chamber, creating a shearing effect when pressure is increased. Steam jackets line the extrusion chamber to assist in cooking the meal mixture. When the sncks food materials reaches the die it is hot, elastic, and viscous. The moisture is liquid under high pressure but changes to steam as it reaches lower pressure on the other side of the extrusion process. The result is that the powder materials expands and puffs up as it moves through the die.
Some other puffy snacks is shape, after being extruded, the cooked dough is sliced either at 45° or 90°. Snack food machine manufacturers uses an innovative and specifically designed flexible cutting system, which is ideal for slicing extruded bread snacks. Cut products are conveyed to a temperature and humidity controlled belt dryer to reach the targeted level of moisture content and crispiness. Dried bread snacks are then seasoned.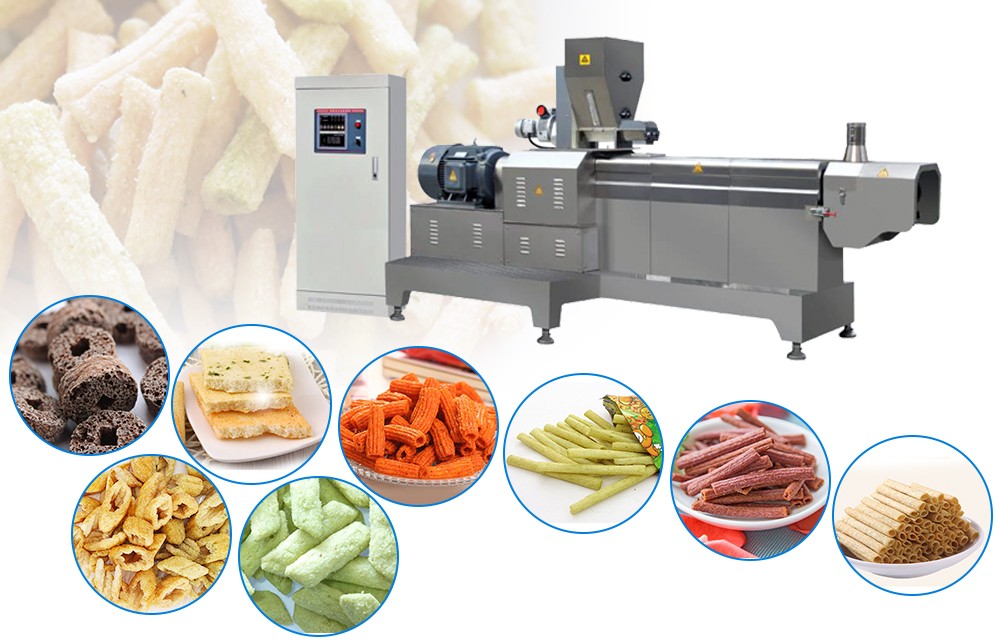 Corn Puff Snacks Extruder
INTRODUCTION OF PUFF extrudER MACHINE FROM food processing machinery manufacturers:
Snack Food product manufacturing process flow chart

1

Flour Mixer

Mixing materials

2

Screw Conveyor

Transfer mixed raw materials from Mixer to Twin screw Extruder

3

Twin screw extruder

Extruding snacks Food

Advances in extruder die and cutter designs also give processors an entirely new set of templates to create innovative shapes. Filled snacks can be made on the same production equipment as directly expanded snacks using the co-extrusion add-on kit.

4

Shape cutting machine

Shape cutting machine are ancillary equipment located at the output of extruders, which cut the product after it has gone through the die. Once cut, granulators also ensure the conveyance of the product to downstream equipment on the extrusion line.

Food manufacturers in many countries have adopted twin-screw extrusion systems to make different shaped snacks like bread snacks because they offer end-to-end production in a single line, with processing advantages over traditional bake-and-toast batch processing:

- Greatly reduced processing time and higher productivity

- Easy changeover and cut changes, using exclusive flexible cutting system

- Flexibility to process a wide variety of bread snacks and croutons for soups and salads

- Intensified processing, resulting in reduced energy and water consumption, contributing to Sustainable Development

- Process control to produce high-quality products with consistent features and flavor

- Variable output, custom-designed to produce from 180 kg/h to 700 kg/h

- Hygienic design of lines

5

Core filling machine

Filled snacks can be made on the same production equipment as directly expanded snacks using a co-extrusion add-on kit.

Other advantages include:

--Ingredient flexibility for extruded snacks recipes

Processing of a wide range of raw materials for both outside shells and fillings

Wheat flour is commonly the major ingredient for the outside of filled crispy flat breads, often blended with rice, corn or other grains, such as barley, oats and rye, and they can also be gluten free. Other ingredients, including sugar, salt, milk powder, colors and oil, are generally added for their specific functional and taste properties.

Common fillings include chocolate (dark, milk or white), vanilla, jams, peanut butter and various fruit pastes: dates, prunes, berries, apples, etc.

--Quick changeover between product runs

--Production of various of traditional and innovative shapes (pillows, triangles, sticks, ovals, diamond-shaped,..), sizes, colors and coatings

-Variable filling content, from 20 to 50%

6

Hoister

Transfer snacks to continuous dryer

7

Continuous dryer machine

Continuous belt dryer has been specially designed to dry extruded and expanded products on a continuous basis.

HOW DOES THE CONTINUOUSDRYINGSYSTEM WORK?

The product is evenly spread on the belt by a dosing system that maintains a consistent thickness and ensures homogeneous drying. It is transported in fine layers on the belt at adjustable speeds, dried by gas or electrically powered forced-air ventilation at controlled temperatures.

CONTINUOUS DRYER OFFERS THE FOLLOWING ADVANTAGES.

--Homogeneous drying due to uniform distribution of the product and layer thicknesses, with adjustment of variable belt speeds

-Compact design, reducing space requirements with shipping of pre-mounted and tested components

-Flexibility, with the capacity to dry a wide range of products

-Hygienic design to facilitate cleaning and maintenance

-Robust and reliable construction with all product contact parts in food-compliant stainless steel

-Optimal insulation of the doors and openings to improve drying and reduce energy dispersion

8

Coating system

Extruded snacks are subject to a coating step in which they are covered with liquid and / or powder flavorings.

9

corn flakes packaging

Packing corn snacks in bags.
Design for CORN PUFF MAKING machine

Corn Puff Snacks Flow Chart
Corn Filling Puff Snacks Flow Chart
Technical Parameters For SNACKS MAKING machine
Different model for sale of snacks manufacturing machine

Model

Installed Power

Power Consumption

Output

Size (L*W*H)

LY65

84kw

59kw

120-150kg/h

21000x1200x2200mm

LY70L

132kw

92kw

200-250kg/h

23000x1500x2200mm

LY85

239kw

167kw

300-500kg/h

28000x3500x4300mm

LY75

186kw

139.5kw

400-500kg/h

24000*2000*2800

LY95

295kw

222kw

800-1200kg/h

31000*3500*4300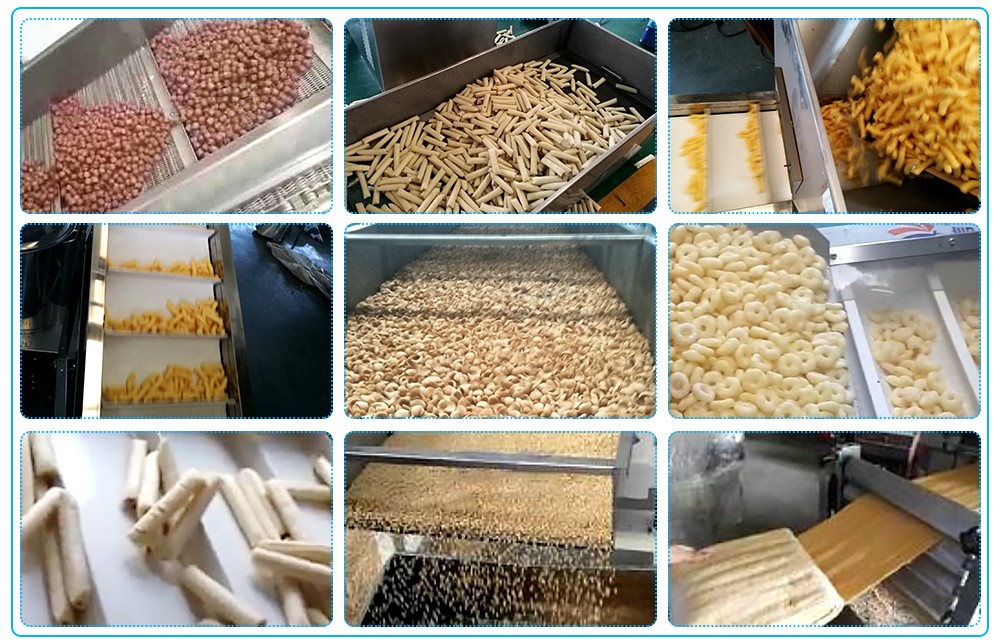 Puff Sancks Finished Product
snacks manufacturing plant project cost
What's the price for puffed snacks machinery?

Puffed snack food making machine Price Vs

Electrical heating type snack food making machine for sale

Gas/Diesel heating type snack food making machine for sale

Electrical heating type core filling snacks making machine for sale

Gas/Diesel heating type core filling snacks making machine for sale

LY65

$23000

$26000

$27600

$30600

LY70

$29000

$32000

$34000

$37000

LY85

$52000

$59000

$64000

$71000

LY75

$74000

$74000

$87000

$87000

LY95

$207000

$207000

$227000

$227000
Cost Accounting of Snacks making machine price
Corn power 88%, Flavor power 4%, Oil 8%

RAW MATERIAL

PACKAGE

Output

Calculate as 120kg/h

17g/pcs, Packing Speed: 6600pcs/H

Cost

of

raw material

·corn powder

2.00RMB/KG

Flavor power

30.00RMB/KG

Oil 5.5RMB/KG

Calculate 120*88%*2+120*4%*30+120*8%*5.5=408RMB/H

120KG/H

Cost of one

408÷120=3.4RMB/KG

Calculate the package as

0.088RMB/pcs

6000pcs/h×0.088RMB/pcs=528RMB/h

6600 pcs*17g=112KG/H

Package fee as per

528÷112=4.7RMB/KG

Cost of the finished products

3.4+4.7=8.1RMB/KG

Cost

of the electric

50kw×1h×0.68RMB=34RMBH

34÷120KG=0.28RMB/KG

5kw×1H×0.68RMB/kw.h=3.4RMB/H

3.4RMB/H÷112KG/H=0.03RMB/KG

Finished

COST=8.1+0.28+0.03=8.41RMB/KG

SEAL PRICE: 17G/bag=1.5RMB, 1KG will be 88 RMB.

One day it will be 88RMB *120kg*8=84,480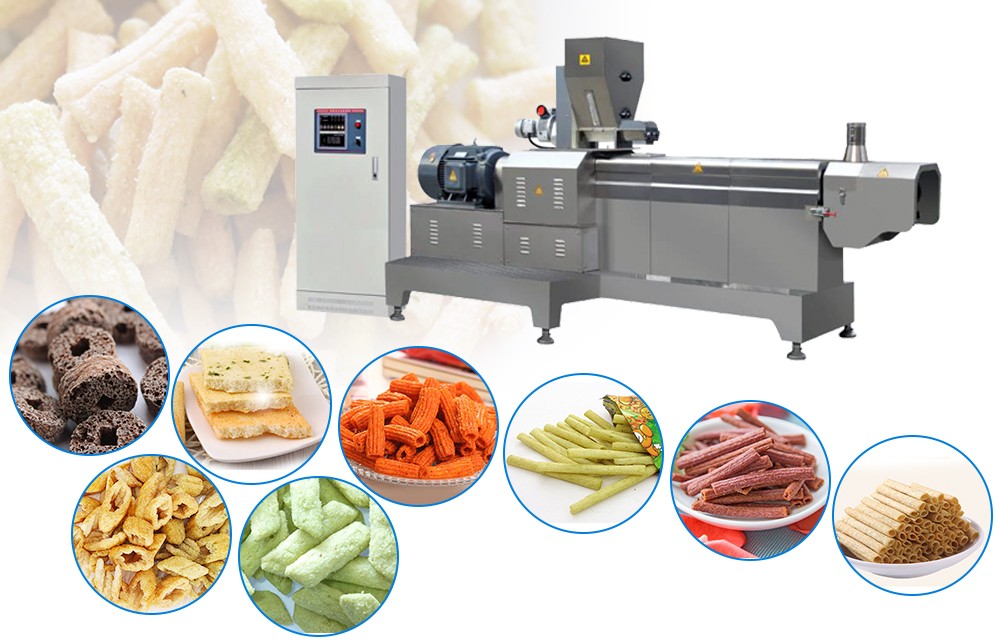 Puff Sancks Extruder
extruded snacks manufacturing project report
The Advantages of Corn Puff Snacks Making Machine:

1

Twin screw extruder adopts frequency speed controlling with high automatic and stable pre-formtion

2

The screw of twin screw extruder are made of the alloy steel and speical craft,durablr usesge,high pressure,the screw life is longer.

3

The forced lubrication system of twin screw extruder,can guarantee the equipment transmission life longer.

4

Auto-temperature control system makes the temperature control more direct viewing and the parameter more precise.

5

Self cleaning,when stopping,it can be cleaned without disassembling.

6

Twin screw extruder systems running in a high automatization and intellectualization,no pollution.

7

Adopting advanced world famous brand components in pneumatic parts ,electric parts and operation parts.

8

Ingredient flexibility extruded snacks recipes

Processing of a wide range of raw materials – corn, wheat, rice, rye, potato and many other products

Variable granularity, from fine flour to semolina

Production of various shapes and sizes – balls, sticks, pillows, animals, stars, rings, curls, chips, etc.

Sweet and savory coatings, including 1+1 oil slurry and powders (cheese, paprika, salt, tomatoes, spices, etc.)

Multiple colors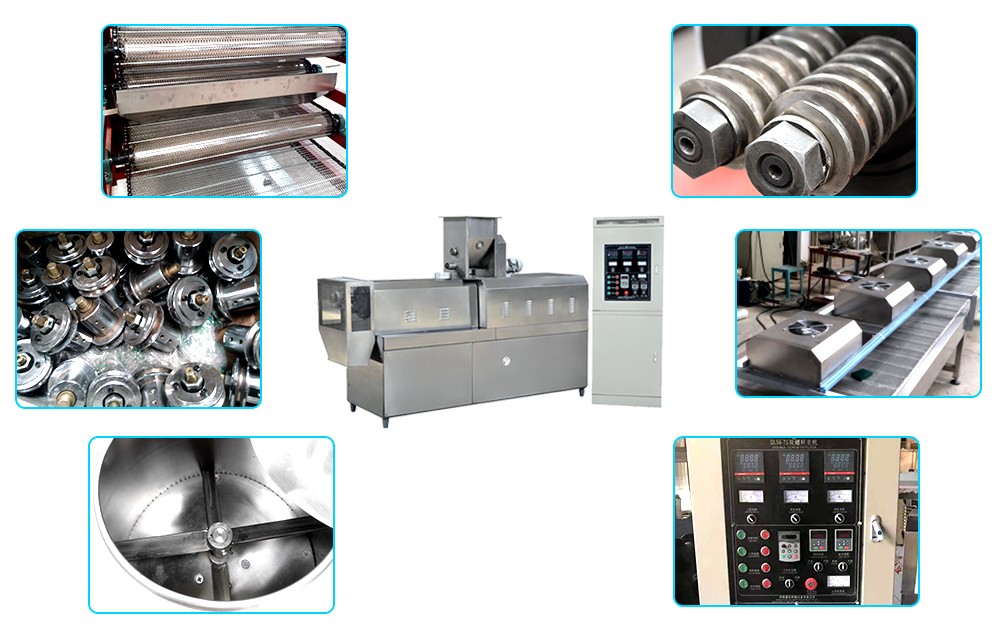 Puff Sancks Extruder And Machinery Details
Puff Sancks Extruder Production Line Working Video
Related Processing
Corn Puff Snacks Making Machine Manufacturing Process
Corn puff snacks making machine manufacturing process is mainly for core filling snacks and direct extruded snacks. puff extruder machine technology (also known as twin screw extruder technology) is to use advanced puff maker...
Related News
500kg/h Corn Puffs Snack Food Extruder Machine For Sale In India
In September 2021, this Indian customer contacted us via our Facebook, he browsed the video we released of the puffed food production line, and intends to start a new business in 2022. He is a well-known food manufacturer in India with his own brand and...
1000kg/h Puffed Food Extruder Machine For Sale In Pakistan
In October 2021, I was approached by a Pakistani food extruder customer who contacted me through our agent in Pakistan. He had bought a puffed food extruder from another company a year ago, but the quality was average. Now he wants to expand the...
Contact Us

Shandong Loyal Industrial Co.,Ltd.

Telephone

+86 18905316466

Email

[email protected]

WhatsApp

+86 18905316466

WeChat

18905316466

Address

C623, Jiahui Global Plaza, No. 548, Beiyuan Street, Tianqiao District, Jinan City, Shandong Province

Factory Address

ADD -300m North of Zhangxia Industrial Park, Binhe Road, Zhangxia Town, Changqing District, Jinan