Shandong Loyal Industrial Co.,Ltd.

Industrial Microwave Oven Food Extruder Machine Biscuit Making Machine

English
Home>Products>Food Extruder Machine>Twin Screw Food Extruder Machine

Twin Screw Food Extruder Machine
As a twin Screw extruder machine manufacturer , Due to a wide range of extruder screws and barrels design, a double screw extruder technology is able to ensure food extruder machine manufacturing process to produce a wide range of Food & Feed products, making puffs snacks, pet food, fish feed, corn flakes, breakfast cereals, TVP, artificial rice for sale.

Loyal

Twin Screw Extruder

Shandong China

CE,ISO9001,SGS,BV

1 set/twin screw extruder

Contact Us

Wooden case or wooden pellets depended on clients' requirement

30 working days

T/T,L/C,D/P

30days /twin screw extrusion machine
Product Details
Applicable Industries:
Twin-screw extrusion processing versus conventional food processing
Capacity:
100-150g/h 200-250kg/h 300-500kg/h 300-500kg/h 800-1000kg/h
Condition:
New
Converter:
Customizable
Equipment Material:
Stainless Steel/Carbon Steel
Food processing machinery manufacturers:
Loyal Factory
Function:
Multifunction
HS Code:
84388000
Installation:
Engineer Guide
Key Selling Points:
Competitive Price
Key Words:
Twin screw Extruder
Machinery Test Report:
Provided
Model:
LY65 LY70 LY85 LY75 LY95
Place of Origin:
Shandong, China
Processing Types:
snacks extruder food processing
Voltage:
customizable
Product Description
Twin Screw Extruder process developed by twin screw extruder manufacturers more then 30 years, enables the continuous production of highly homogeneous and finely structured products, using bio-sourced or synthetic raw materials. It is used to produce a wide range of Food & Feed products, our multifunctional food extruder machine offer flexible, reliable processing for your breakfast cereals, food ingredients, pet food and aqua feed products.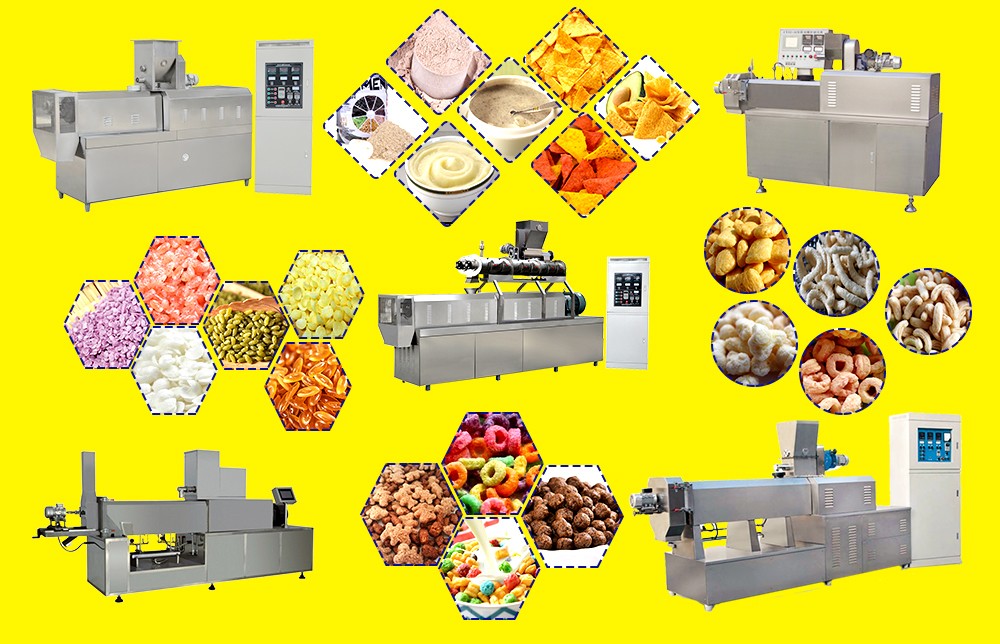 Technical Parameters OF TWIN SCREW food extruder MACHINE FOR SALE
DIFFERENT MODEL OF ORDINARY TWIN SCREW EXTRUDER FOR SALE

Model

Installed Power

Power Consumption

Output

Size (L*W*H)

LY65

47KW

30KW

180kg/h

3500x950x1850mm

LY70

53KW

37KW

200-250kg/h

3200x760x2000mm

LY70L

53KW

37KW

200-250kg/h

3200*930*2000mm

LY85

99KW

75KW

500kg/h

3800*1100*2350mm

Applied Products:Pet food\ nutrition rice\ puff snacks\doritos chips

MULTIFUNCTIONAL STANDARD SCREW EXTRUDER MACHINE FOR SALE

LY75

98KW

75kw

200-500kg/h

5200*1100*2800mm

LY95

142kw

110KW

600-1200kg/h

6400*3000*3000

Applied Products:Pellets snacks,Puffs snacks,Pet Food,Fish Feed,Corn Flakes, Breakfast Cereals, TVP, Artificial rice etc
SCREW L/D RATIO
| | | | | |
| --- | --- | --- | --- | --- |
| MODEL | LY65 | LY70 | LY 70L | LY85 |
| Cooling system | WITHOUT | WITHOUT | WITH | CUSTONIZABLE |
| L/D | 1050/₵65 | 1408/₵70 | 1408/₵70 | 1900/₵85 |
How does the double screw extruder machine work?
Twin screw extruders consist of two intermeshing, co-rotating screws mounted on splined shafts in barrel. Due to a wide range of screw and barrel designs, various screw profiles and process functions can be set up according to process requirements. Hence, a double screw extruder technology is able to ensure transporting, compressing, mixing, cooking, shearing, heating, cooling, pumping, shaping, etc. with high level of flexibility. The major advantage of intermeshing co-rotating twin screw extruders is their remarkable mixing capability which confers exceptional characteristics to extruded products .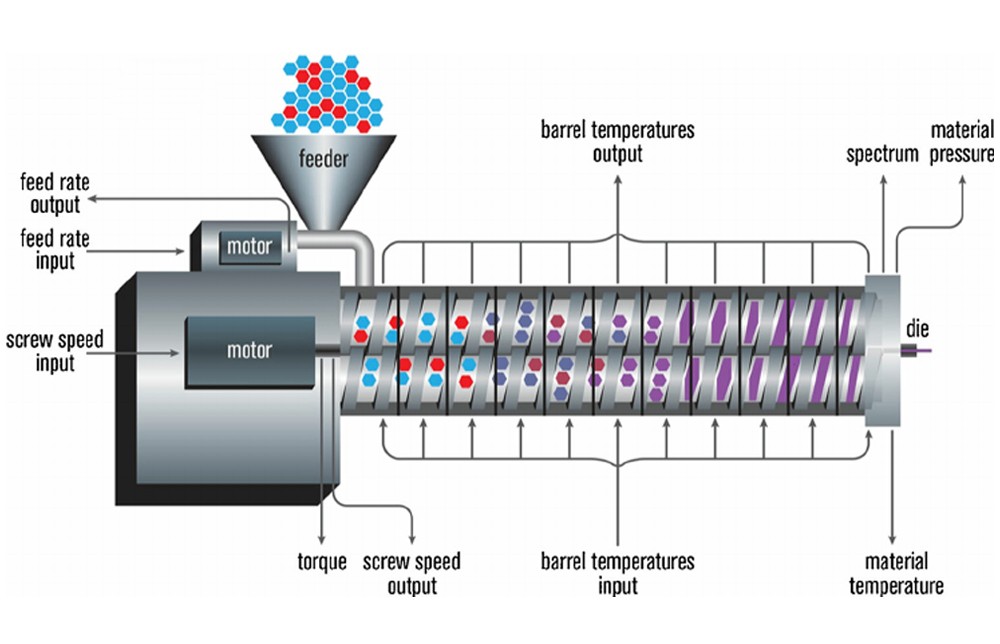 Application for Twin Screw Extrusion

Puffed Snacks

Cereals Snacks

Chips Food

Pet Food

Aquafeed

-Direct expanded snacks

-Nutrition baby powder

-Core Filled Snacks

-Bread Snack/Flat Crispy Bread

-Modified flours and starches

-Bread crumbs

-Texturized proteins

-Artificial rice

- Breakfast cereals

-Corn Flakes

-Baby Food

-Multigrain Corn chips

-Doritos chips

-Rice Cracker

-Corn chips

-Foods for small pet

-Bird food

-Multicolor Food

-Dog food

-Semi-moist pet food

– Micropellets

– Floating feeds

– Sinking feeds

– Shrimp pellets
Q: Whether our food extruder machine recipt can process your material?
A: Our double screw extruder mainly used in following application with different snacks:

Main Ingredients:
Wheat Flour, Corn Flour, Potato Flour, Rice Flour, bran, multi-grains powder,Corn Starch,Wheat Starch
INTRODUCTION OF twin screw extruder machine FROM food processing machinery manufacturers:
Main Features Of Twin Screw Food Extruder Machine

1

Series of double-screw extruder mainly consist of feeding system, extruding system, cutting system, heating system, lubricating system and controlling system.

2

Transfer mixed raw materials from Mixer to co rotating twin screw extrusion

3

Automatic lubricating and forced cooling make sure that twin extruder machine performs safely and extends using life.

Feeding system, extruding system and cutting system all adopt frequency conversion timing to gain powerful drive, stable perform, and electricity saving.

4

Screw are made of alloy and processed by special technique to possess high intensity, abrasion resistant and longer using life.

5

By means of designing different structures and slenderness ratios according to needs of products, screw extruding system can meet different technology demands.

THE ADVANTAGES OF TWIN SCREW EXTRUSION
Extruders has become the standard over time in several industries because it offers numerous advantages
--- More consistency in production and control of product quality
-- Increased productivity due to continuous processing, faster start up and shut down between product changes, quick changeover and advanced automation
--- Greater flexibility, with the capability to process a wide range of raw materials
--- Optimized footprint thanks to energy and water savings
--- Simple and easy to maintain and clean
Comparing with single screw extruder AND twin screw extruder
| | | |
| --- | --- | --- |
| Performance | Single Screw Extruer | Co-rotation Twin Screw Extruded machine |
| Conveying Efficiency | Low | High |
| Compounding Ability | Low | High |
| Shear Effect | Medium | High |
| Energy consumption | High | Lower |
| Self-cleaning | Low | High |
| Calorific Value | High | High |
| Stay Time | Long | Short |
| Material feeding | Difficult | Easy |

ordinary twin-screw extruder

Design

VS.

Multifunctional co-rotating twin-screw extruders

DESIGN
ordinary twin-screw extruder(TSE)

Multifunctional standard extruder(MSE)

The screw is an integral screw and can't be freely combined. Different products need to be replaced with different types of screws

twin screw extruder design can also more effectively change the screw element combination and different accurate metering feeding hopper for various material compounding.

Mixing capability of ordinary twin- screw extruders is very limited, and any flow restrictions to enhance mixing through special screw designs lead to depress the extruder throughput.

Remarkable mixing capability, due to the interpenetration of the screws and the broad diversity of specialized screw designs (such as reverse screw elements, kneading blocks, gear mixing elements, etc.) which allow the extent of shearing/mixing to be precisely adjusted; hence leading to control the degree of mixing in regards to mixing intensity and mixing quality (dispersive versus distributive).

Button control

PLC control

Better control of process parameters, that are: narrower residence time distribution, lower dispersion of shear rates and strain, higher convective heat transfer, accurate control of temperature profile; hence leading to much better control of shear-time-temperature histories in the extruder, to much wider range of mechanical energy inputs, and so to more consistency in regards to material conversion and product quality.

The V-belt drives the cutter to run, and the wear rate is high

– Cutter with lateral movement, Highly flexible cutter

The cutter can be moved to one side for easier control, access and cleaning.

WITHOUT

- intelligent recipe memory

In order to guarantee an end product of consistent quality, the

extruder system is equipped with an intelligent

recipe memory. This offers two significant benefits: the susceptibility to process errors decreases, and production can be

quickly adapted to other recipes.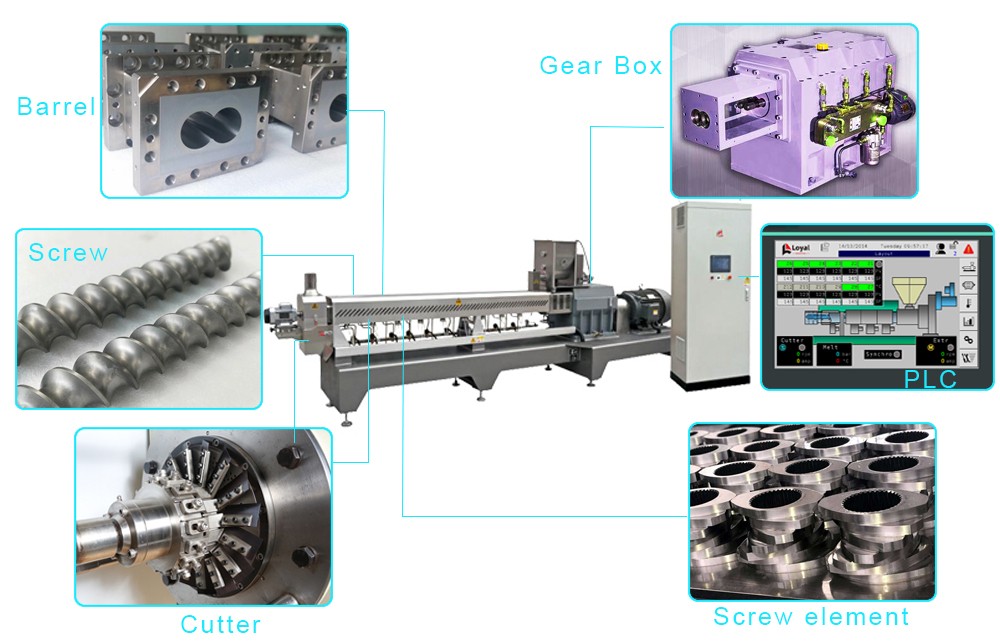 extruder screw design for screw elements twin screw extruder
O

rdinary screw

Design

VS.

Multifunctional screw elements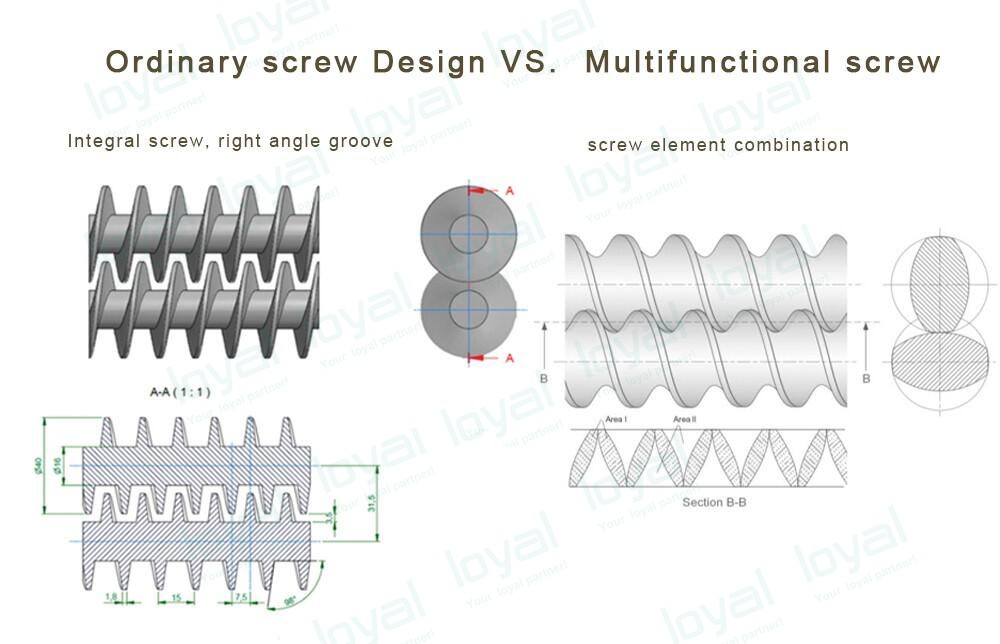 Screw Elements:
1. Supper anti-abrasive and anti-corrosion
2.. Raw material is heating treatment and overall hardening, high wear-resistance and toughness.
3. Special heat treatment and high precision CNC machining. Make sure to get the best quality.
Suitable for your high protein materials
Different screw elements combination use for different function material compounding, Our lists of screw elements are including the following:
--Conveying elements
--Conveying elements
--Reverse elements
--Compression elements
--Discharge elements
--Kneading blocks and single mixing discs or paddles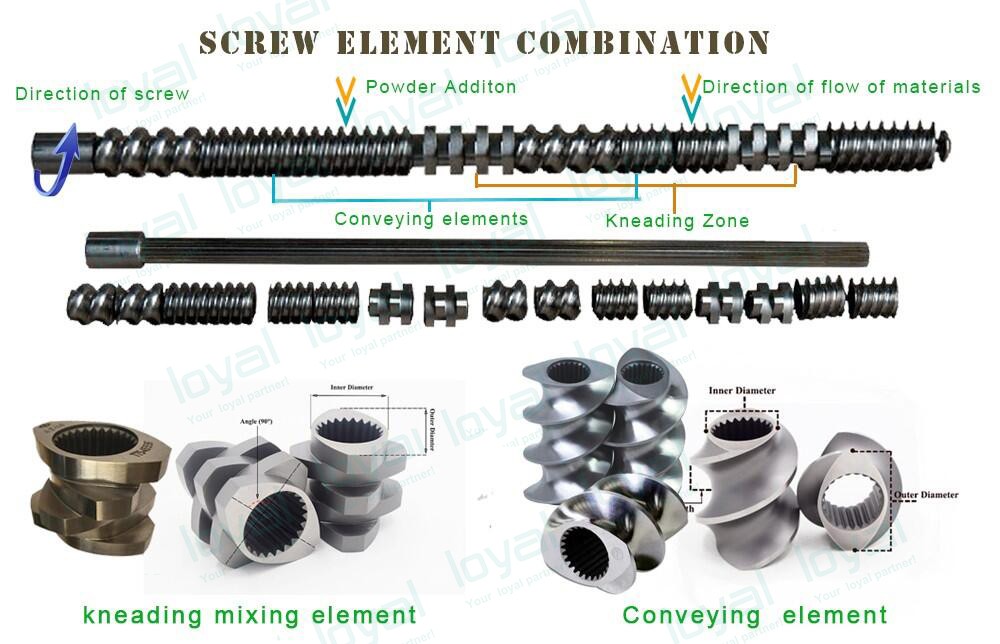 Extruder Barrel:
Extruder barrel is made with bushing and cylinder, bimetallic treatment.
The screw and barrel of double screw extruder machine adopt segmented design. Different combination of barrel decide the extruder L/D; different combination of screw decide the extruder function.

Related Food Processing
Single Screw VS Twin Screw Extruder
In the market, puffed foods are very popular and loved by people, such as the QICHI French fries, Onion rings, potato sticks, cheese sticks,corn curls, LAY'S potato chips, cheetos, Chiduo, Orion . Do you know how are puffed snacks made? In...
Producing Textured Soy Protein By Twin-Screw Extruder
Textured Vegetable Protein - TVP is a vegetable protein that uses low-temperature soybean meal, soy protein isolate, and gluten as the main raw materials. It is made into vegetarian meat through soya bari manufacturing process and has a fibrous vegetable...
Contact Us

Shandong Loyal Industrial Co.,Ltd.

Telephone

+86 18905316466

Email

[email protected]

WhatsApp

+86 18905316466

WeChat

18905316466

Address

No.700-712 Sushan Road, Huaiyin Dist., Jinan, Shandong, China

Factory Address

No.88#,Baotou Street, Ningyang Economic Development Zone, Taian City, Shandong Province, China