Shandong Loyal Industrial Co.,Ltd.

Industrial Microwave Oven Food Extruder Machine Biscuit Making Machine

English
Home>Products>Food Extruder Machine>Single Screw Extruder Food Processing Machine

Single Screw Extruder Food Processing Machine
Single Screw Extruder Food Processing Machine was designed from single screw extruder suppliers for the food extruder machine at controlled temperatures of pre-gelatinized raw material and/or cooked doughs coming from a single screw extruder food processing machine, using interchangeable dies and a suitable cutting system. a wide range of pellet snacks products for sales, such as pellet snacks,2D pellet, 3D pellet, and special dietary pasta, is obtained by varying single screw extruder food processing conditions, raw materials recipt and replacing dies.

Loyal

LY100

Shandong China

CE,ISO9001,SGSBV

1 set/food extruder machine

Contact Us

Wooden case or wooden pellets depended on clients' requirement

30 working days

T/T,L/C,D/P,Western Union,MoneyGram

30days /single screw food extruder machine
Single Screw Extruder Food Processing Machine Details
Applicable Industries
Manufacturing Plant, Farms, Home Use, Retail, Food & Beverage Shops
Condition
New
Place of Origin
Shandong, China
Type
single screw extruder food processing
Voltage
380-440V 50-60HZ
Dimension(L*W*H)
18x2x4m
Weight
6000 kg
Warranty
1 YEAR
After-sales Service Provided
Free spare parts, Field installation, commissioning and training, Field maintenance and repair service, Video technical support, Online support, Engineers available to service machinery overseas
Certificate
CE,SGS,ISO
Raw material
Corn powder,wheat flour,soyabean powder
Machine
Fish/shrimp feed food machine system
Application
pellet snacks,2D pellet, 3D pellet, and special dietary pasta
Energy
Electricity,diesel,gas
Modle
SLG55
Capactity
150kg/h 250kg/h 500kg/h, 1Ton/h, 3Ton/h, 5Ton/h
Single Screw Extruder Food Processing Machine Description
Single Screw Extruder Food Processing Machine can process automatically and continuously a great variety of flours and cereal/potato starches, both mixed and in pure state. single screw extruder machine manufacturer also can choose equipped with dosers for solid and liquid ingredients, high speed pre-mixer, mixing tank, extrusion group composed of motor with variable speed, gear box and thrust bearing group. Forced feeding screw, modular type cooking screw with interchangeable shear locks, segmented barrel with independent thermo regulation.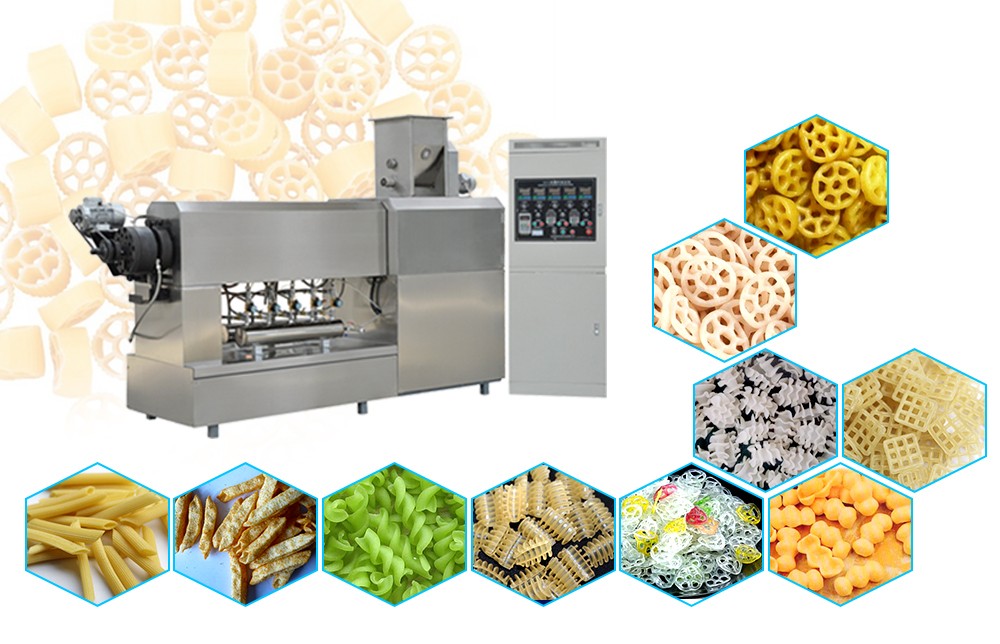 Single Screw Extruder Machine
How does the SINGLE screw extruder machine WORK?
All raw materials requiring cooking are processed in the extrusion-cooking step, followed by the shaping step of the extruder machine process, which can be either any other system capable of giving a correct shape to the hot dough before the drying.For example , Extruders are used to shape the pellets after cooking, to make die cut products or to extrude sheets or ribbons to be shaped and cut at distance from the die. single screw extruder food processing complete with cutting group.
what is extruder machine TECHNOLOGY

DESIGN?
Pellet snacks are produced dried and semi-processed for easy storage and shipment and in a second phase are expanded, seasoned and packed.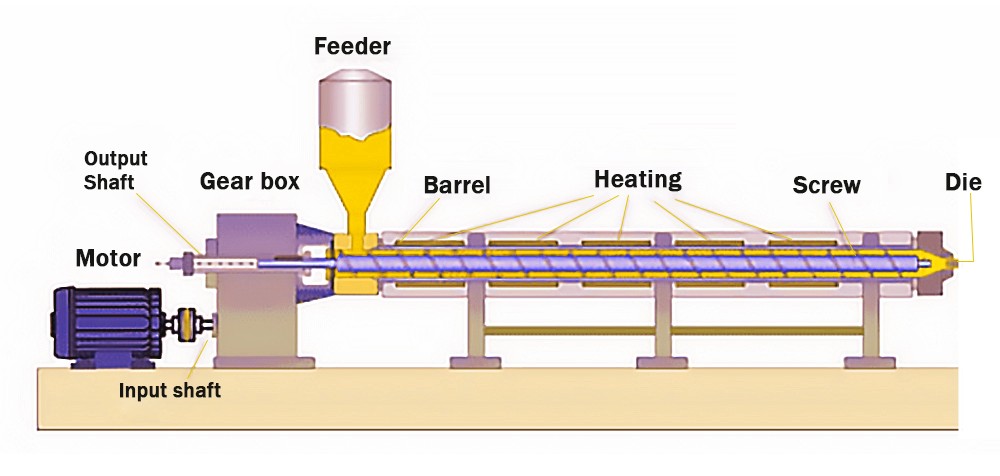 Details of single extruder machine
Technical Parameters of food extruder for sale
DIFFERENT MODEL OF SINGLE SCREW EXTRUDER FOOD PROCESSING MACHINE FOR SALE

Model

Installed Power

Power Consumption

Output

Size (L*W*H)

LY 100

55KW

30KW

100kg/h

3200x1500x1650mm

Applied snacks pellet food Products for sale:

pellet snacks,2D pellet, 3D pellet, and special dietary pasta
Standard Ingredients FOR RAW MATERIALS RECIPT IN extruder pellet machine
DIFFERENT RAW MATERIALS INGREDIENTS LEAD TO DIFFERENT PRODUCTION PROCESSES
The simple principle of expansion of the pellet snacks allows the utilization of a wide choice of starch based raw materials. Cereal flours are the most common ones, followed by root starches like potato and tapioca and cereal starches. A great advantage of the pellet snacks technology is the possibility of making formulas with peculiar characteristics like high fibre content, multi grain or multi coloured
FOOD EXTRUDER MACHINE RECIPT

Main Ingredients

Others

* Wheat Flour Corn Flour

* Potato Granules, Flakes and or Flour

* Rice Flour

* Tapioca Starch

* Potato Starch

* Corn Starch

* Wheat Starch

* Salt

* Natural Sweetener (Stevia, Aspartame)

* Sugar

* Spices

* Fresh egg

* Vegetable Oil

* Calcium Carbonate

* Mono-Glycerin

* Food Colors

* etc.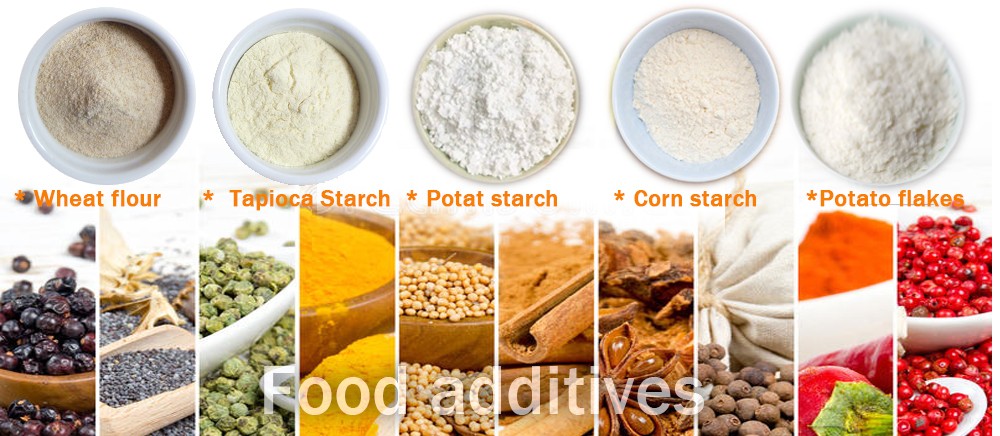 extruders in food applications
extruders in food applications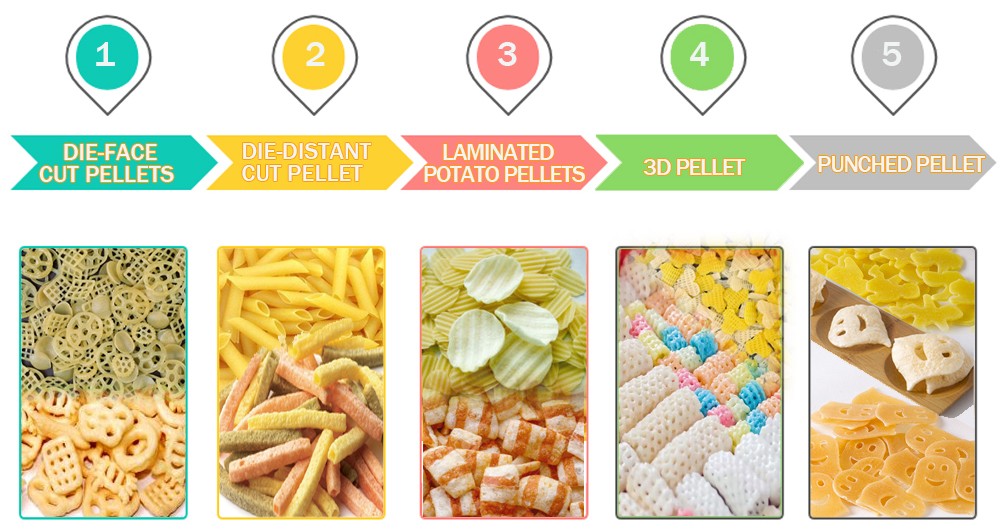 extruders in food applications
advantages and Disadvantages of Single Screw Extruder MACHINE
The main advantages of the pellet snack technology from food processing machinery manufacturers
--- By virtue of its superior performance, single screw extruder has been widely used over the years. It can be used for processing a variety of pellet products, such as pasta, 2D &D pellet, potato chips, corn chips.
-- Advantages of pellet extruder machine. Designed by advanced technology, it has good extruding function to ensure stable and high speed extrusion. The entire process is involved with involute gear transmission so it cause low noise and can bear large capacity.
--- Well defined shapes compared to directly expanded products
--- Wide choice of raw materials: possibly all starches containing raw materials can be utilized.
--- Large choice of shaping systems: from the most classical die-cut products to the sheeted ones, the double and the multilayer ones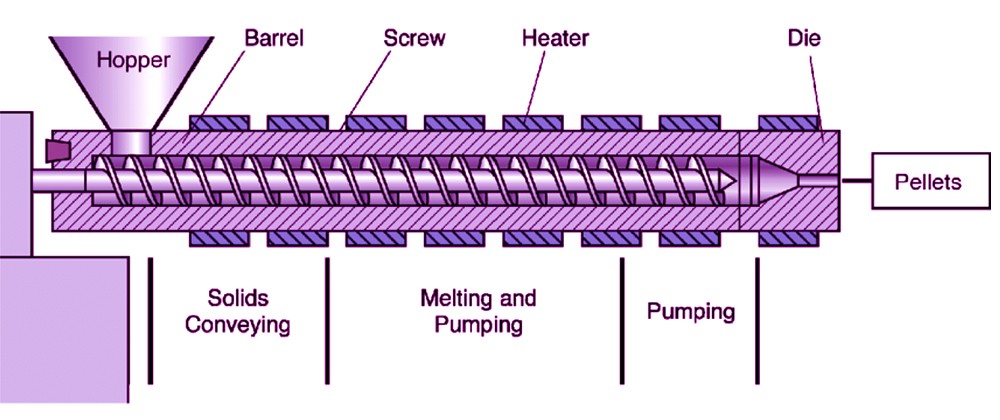 Single Screw Extruder MACHINE
How do you increase food extruder machine output?
Single screw extruder suppliers to adjust feed throat temperature. It improves processing by enhancing solids conveying, and reduces energy by not displacing heat through the feed throat water discharge. Maintain a consistent regrind form. Maintaining a consistent shape promotes bulk density, improves flow in the feed hopper, and a gives a consistent conveyance in the screw's feed section. All of these factors influence the screw's output stability.
WHAT IS THE DIFFERENCE BETWEEN AN EXPANDED SNACK EXTRUDERS AND A SNACK PELLET EXTRUDERS?
SINGLE SCREW EXTRUDER VS TWIN SCREW EXTRUDER

1

Capacity: Single screw is suitable for starch extrusion cooking but without puffing. The material stays in the food extruder machine for a long time; the twin-screw has good mixing and cooking ability, the material is short in the extruder, and is suitable for powder processing.

2

processing capacity and energy consumption aspects: twin-screw extruder production, extrusion speed, unit output energy consumption is low, and single screw rod difference.

3

Pellets become ready-to-eat snacks once they have been expanded in frying process or baking process.

4

Snack pellets can be made with a wide variety of grains powder– corn starch, wheat starch, rice starch, tapioca starch– or potatoes starch and other vegetables powdder. They can also incorporate aromas and colors in their recipes.

5

Operational aspects: Double screw manipulation easy, process control simple, Single screw operation is relatively complex, process control requirements are high.

SINGLE SCREW EXTRUDER VS TWIN SCREW EXTRUDER
2021 Customer Order Dog Food Manufacturing Process Line Form:
Our dog food making machine is summed up by a number of 25 technical engineers who have more than ten years of experience. Loyal wet pet food extruder production line has a number of pet food project technology patents, which can provide you with the most detailed formula and process documents, which can save dog food production line costs while improving good development in the pet food manufacturing industry.
Pet Food Manufacturing Process Line Purchased By Customers Producing Dog Food Products

1

Chine 300T/Month Industrial Wet Dog Food Production Line

2

1T/H Tough Dog Food Production Line For Sale In Puerto Rico

3

1T/H Crisp Dog Cat Food Production Line For Sale In Bolivia

4

Senegal 1T/H Industrial Dog Food Extrusion Machine

5

1T/H Dog Food Machine For Sale In Côte d'Ivoire

6

1T/H Industrial Dog Food Equipments Sold In Russia
Old Customers Repurchase Dog Food Manufacturing Process Line In 2021

7

1T/H Industrial Dog Food Production Line For Sale In Uzbekistan

8

1000kg/h Industrial Automatic Dog Food Machine For Sale In Senegal

9

Mozambique 1T/H Industrial Dog Food Manufacturing Line

10

Bangladesh 2T/h Industrial Dog Pet Food Making Machine

11

1T/H Thai Dog Food Production Line

12

Uzbekistan 1T/H Dog Food Production Line
Customers Who Buy Dog Food Production Line Through An Agents

13

USA 1T/H Pet Food Production Line

14

800kh/h Industrial Wet Dog Food Production Line For Sale In Nigeria

15

Algerian Dog And Cat Food 300kg/h Production Line

16

Sudan 200kg/h Wet Dog Food Making Machine

17

Moldova Small 200kg/h Wet Dog Food Production Line

18

200kg/h Milk Dog Food Machine Sold In Ukraine
Customers Who Are Building Factories Buy Dog Food Extrusion Machine:

19

Nigeria 150Kg/H Industrial Wet Dog Bone Food Making Machine

20

Austria Sells Industrial Dog Food Machine 100kg/h

21

Nigeria 150Kg/H Dog Food Making Machinery

22

Vegetable Dog Food Making Machine For Sale In Pakistan 100kg/h

23

Austria Sells Industrial Dog Food Machine 100kg/h

24

50Kg/H Small Dog Food Extrusion Machine For Sale In Botswana

25

Sudan 50kg/h Small Dog Food Production Line

26

Algerian Dog Food 300kg/h Production Line
Related Processing
Single Screw VS Twin Screw Extruder
In the market, puffed foods are very popular and loved by people, such as the QICHI French fries, Onion rings, potato sticks, cheese sticks,corn curls, LAY'S potato chips, cheetos, Chiduo, Orion . Do you know how are puffed snacks made? In...
Single Screw Cooking Forming Extruder Process technology
single screw cooking forming extruder manufacturer of semi-finished pellets chips and snacks making. Cooking forming extruder use single screw extruder technologies based on our own developments and achievements of the world's leading pellet...
Related News
Fish Feed Extruder -- Visit From Singapore Customers
Not long ago, we received several customers from Singapore. They learned about our products and then contacted our staff to visit the factory's fish feed extruder. We are delighted with this and warmly received them. We also arranged professionals to...
Contact Us

Shandong Loyal Industrial Co.,Ltd.

Telephone

+86 18905316466

Email

[email protected]

WhatsApp

+86 18905316466

WeChat

18905316466

Address

C623, Jiahui Global Plaza, No. 548, Beiyuan Street, Tianqiao District, Jinan City, Shandong Province

Factory Address

ADD -300m North of Zhangxia Industrial Park, Binhe Road, Zhangxia Town, Changqing District, Jinan