Shandong Loyal Industrial Co.,Ltd.

Industrial Microwave Oven Food Extruder Machine Biscuit Making Machine

English
Home>Products>Food Extruder Machine>Pet Food Extruder Machine

Pet Food Extruder Machine
As a pet food extruder machines supplier developed various pet food, fish feed and food extruder machine based on market requirement. The twin screw extruder design in food extruder manufacturing process by changing parameters such as raw materials, temperature, moisture etc parameters, achieved new style products, rich of nutritional content, perfect textures. Extruder machine can make hign quality dog food, cat food, fish feed for sale .

Loyal

PFE-65-1 PFE-70-1 PFE-85-1 PFE-90-1 PFE-75-2 PFE-95-2 PFE-115-3 PFE-130-3

Shandong,China

CE,ISO9001,SGS,BV

1 set/pet food processing equipment

Contact Us

Wooden case or wooden pellets depended on clients' requirement

30 working days

L/C,T/T,D/P,Western Union,MoneyGram

30days /pet food extrusion equipment
Pet Food Extruder Machine Details
Applicable Industries
Food equipmen plant, pet food extrusion equipment Factory, food manufacturers association
After Warranty Service
Video technical support, Online support, Spare parts, Field maintenance and repair service
Local Service Location
Egypt, Canada, Turkey, United Kingdom, United States, Italy, France, Germany, Viet Nam, Philippines, Brazil, Peru, Saudi Arabia, Indonesia, Pakistan, India, Mexico, Russia, Spain, Thailand, Japan, Malaysia, Australia, Morocco, Argentina, South Korea
Raw materials
adopts corn flour, fish meal as raw materials
Place of Origin
Shandong, China
Application
Cat food, Dog food, Bird fodd,fish feed, ,Shrimp feed, Floating fish feed, Tilapia pellet,Sinking feeds,Turtle feed,Crab Feed
Voltage
220V/380V or as required
Power(W)
Depends
Dimension(L*W*H)
Depends
Certification
CE ISO, CE ISO
Capacity
150 kg/h, 240 kg/h, 500kg/h, 1 ton---3 ton/h.
After-sales Service Provided
Field installation, commissioning and training
Machine material
Stainless Steel 201 304
Type
Double Screw Extruder Machine
Motor
Simens
Color
Silver
Energy
Electricity Diesel Gas
Products
different shapes are made by adjusting the dies from extruder
Installation
Oversea Engineer
Keywords
Pet Feed Extruder Equipment
Pet Food Extruder Machine Description
As Pet Food Extruder Machine manufacturers had designed High Quality Twin Screw pet Extruders used for pet food and fish feed production, developed and tested. The major components of the machine included the feeder hopper, the conditioning chamber (can be choose), the barrel that was a screw member housing and the screw with the die and die holder fitted at the extreme end of the barrel.Twin-screw pet extruder process is mainly composed of a barrel housing and screw, fulfilling extrusion operation together with a die and cutting assembly. The twin- screw pet extruder is characterised by its wide adaptability, sliding conveying in the barrel and self-cleaning function, etc. The twin-screw extruder is usually applied in the production of petfood and fish feed.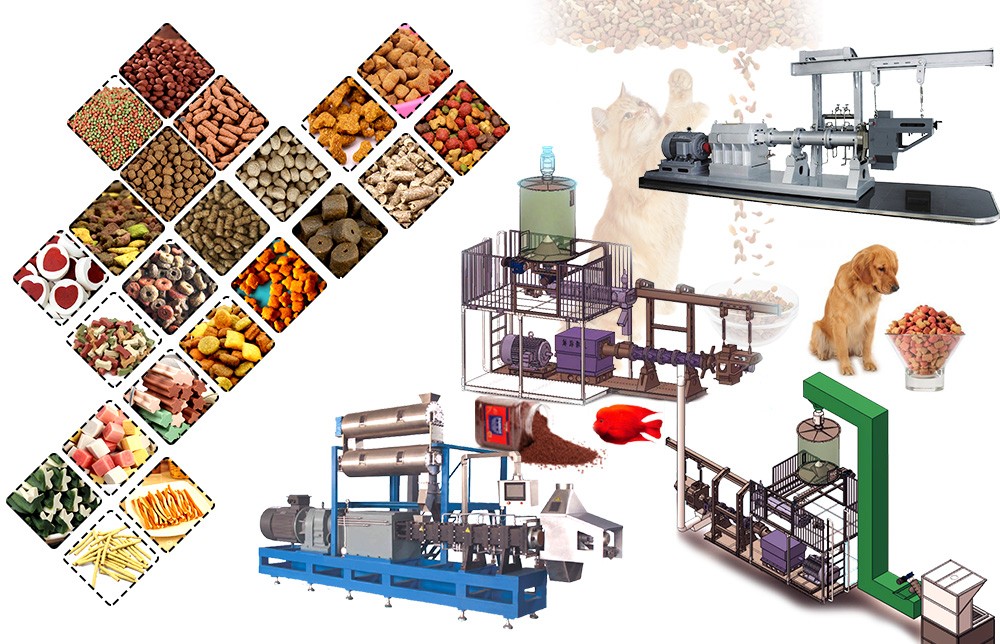 Technical Parameters OF PET food extruder FOR SALE
DIFFERENT MODEL OF DOG FOOD EXTRUDER MACHINE FOR SALE

Model

Installed Power

Power Consumption

Output

Size (L*W*H)

PFE-65-1

47KW

30KW

180kg/h

3500x950x1850mm

PFE-70-1

53KW

37KW

200-250kg/h

3200x760x2000mm

PFE-85-1

99KW

75KW

500kg/h

3800*1100*2350mm

PFE-75-2

98KW

75kw

200-500kg/h

5200*1100*2800mm

PFE-95-2

142kw

110KW

600-1200kg/h

6400*3000*3000mm

PFE-115-3

142kw

110kw

2T-3Tg/h

6400*3000*3000mm

PFE-130-3

200kw

170kw

4T-5Tkg/h

6400*3000*3000mm

Applied Products:Cat food, Dog food, Bird fodd,fish feed, ,Shrimp feed, Floating fish feed, Tilapia pellet,Sinking feeds,Turtle feed,Crab Feed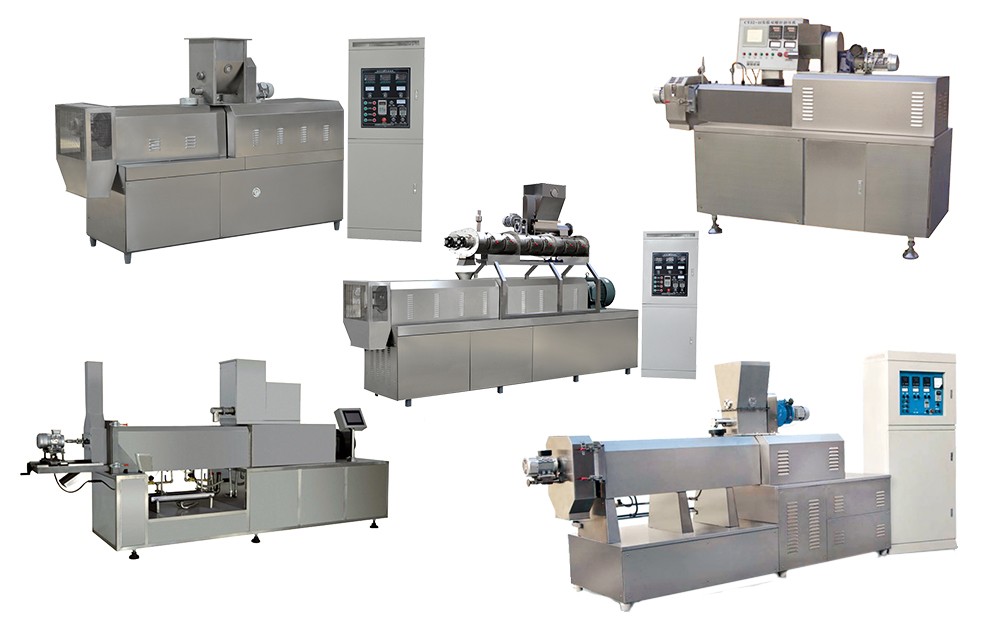 SINGLE SCREW pet EXTRUDER vs. DOUBLE SCREW pet EXTRUDER (Co-Rotation)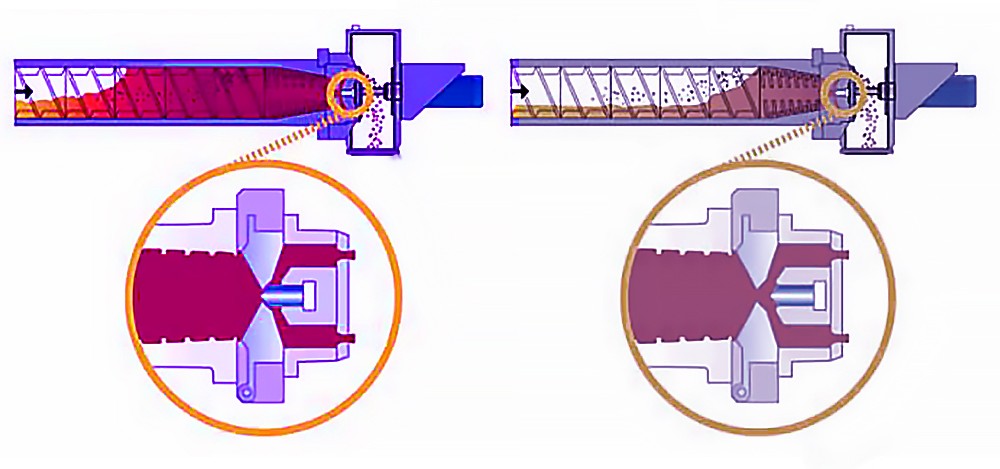 | | | |
| --- | --- | --- |
| Item | SINGLE SCREW EXTRUDER | DOUBLE SCREW EXTRUDER (Co-Rotation) |
| Conveying manner | Feed mash is conveyed forward by friction | Feed mash is forced to solid forword |
| Felf cleaning function | unavailable | Excellent self-cleaning performance |
| Running | Stable and occasional blockage | Stable and reliable |
| Heat distribution of feed | No-uniform | Uniform |
| Ingredient adaptability | Common | Wider (inel. Ingredient rich of moisture and fat) |
| Moisture content of ingredient | 10-30% | 5-95% |
| Product variety | Limited | Various |
| Capacity | Common | Relatively High |
ONE KIND OF BIG CAPACITY TWIN SCREW EXTRUDER FOR PETS FOOD AND FISH FEED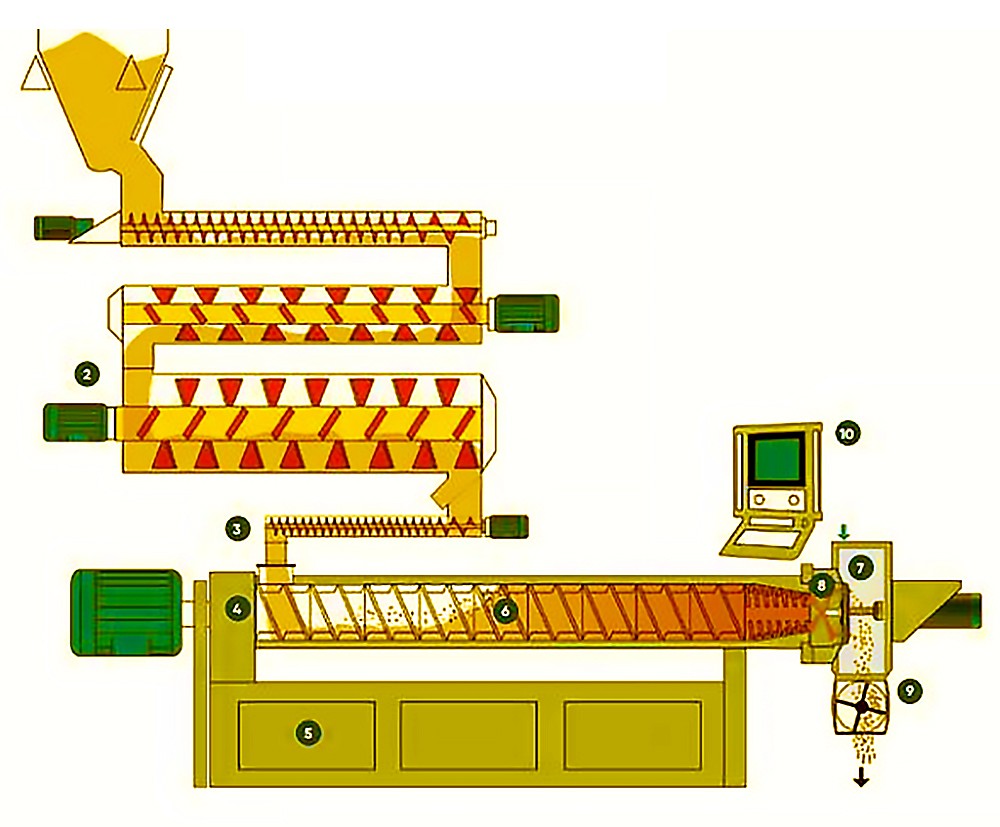 Pet Food Extruder Machine Process Video
HIGN CAPCITY PET PET EXTRUSION MACHINE STRUCTURE

1.Feeder Hopper

2. PRE-CONDITIONING

---Flexible retention time depending on product requirement

--- Constant high mixing efficiency whatever the retention time

--Optimal starch cooking through high mixing efficiency

3 FORCED FEEDER

--Avoids blockage between conditioner and extruder

4 Gear Box

-- Gear or belt drive ensuring even higher efficiency

5 EXTRUDER CHASSIS

--can choose steam heating and liquid adding system

6 SCREW AND BARREL

---screw and barrel configuration, which can be tailor-made for each application

7 CUTTING SYSTEM

---Standard stanley knife blades

8 DIE HEAD SYSTEM

---DIfferent Die choose

9 COOLING FAN

--control of cooling product not be sticked

10 PLC CONTROL FOR CHOOSE

---We accept customization control box, custom can ask twin screw extruder adopts more advanced electric controlling system, as PLC extrusion computer or cabinet. All of the main parameters of extruder, like current, voltage, temperature, torque, rotate speed, can be easily found in the extrusion computer or cabinet.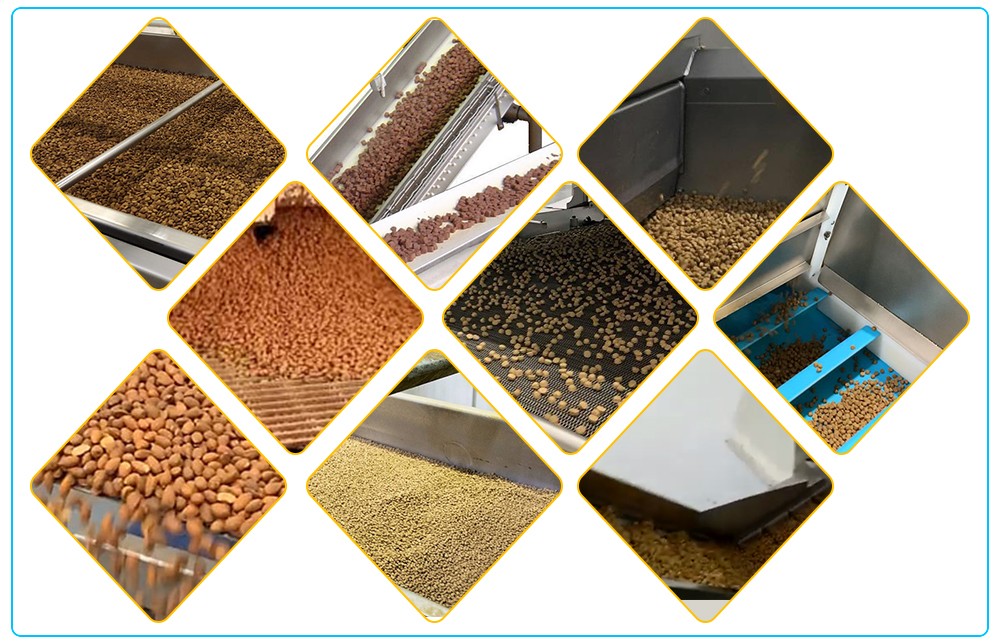 Related Processing
Single Screw Cooking Forming Extruder Process technology
single screw cooking forming extruder manufacturer of semi-finished pellets chips and snacks making. Cooking forming extruder use single screw extruder technologies based on our own developments and achievements of the world's leading pellet...
Single Screw VS Twin Screw Extruder
In the market, puffed foods are very popular and loved by people, such as the QICHI French fries, Onion rings, potato sticks, cheese sticks,corn curls, LAY'S potato chips, cheetos, Chiduo, Orion . Do you know how are puffed snacks made? In...
Pet Food Suppliers Operation Fish Feed Extruder Machine For Sale
The material enters the dog food production machine, and the screw pushes the material to form an axial movement. Due to the mechanical friction between the screw and the material, the material and the barrel, and the inside of the material, the...
Related News
Fish Feed Extruder -- Visit From Singapore Customers
Not long ago, we received several customers from Singapore. They learned about our products and then contacted our staff to visit the factory's fish feed extruder. We are delighted with this and warmly received them. We also arranged professionals to...
Pet food machinery - visit from Thai customers
In life, many people like to keep small pets, and pet food is also dazzling. Recently, several customers from Thailand visited our company. They are a company engaged in the food processing industry for many years and have rich production experience....
Pet Feed Microwave Sterilization Equipment - Shanghai Mr. Xu visit
More and more people like to keep pets, and pet feed has become a popular product, pet feed processing need for sterilization treatment. Mr. Xu, the boss of a company in Shanghai that produces, processes and sells pet feed, have been doing this for many...
Contact Us

Shandong Loyal Industrial Co.,Ltd.

Telephone

+86 18905316466

Email

[email protected]

WhatsApp

+86 18905316466

WeChat

18905316466

Address

No.700-712 Sushan Road, Huaiyin Dist., Jinan, Shandong, China

Factory Address

ADD -300m North of Zhangxia Industrial Park, Binhe Road, Zhangxia Town, Changqing District, Jinan